Pork Chops with Vinegar Peppers and Potatoes
Pork Chops with Vinegar Peppers and Potatoes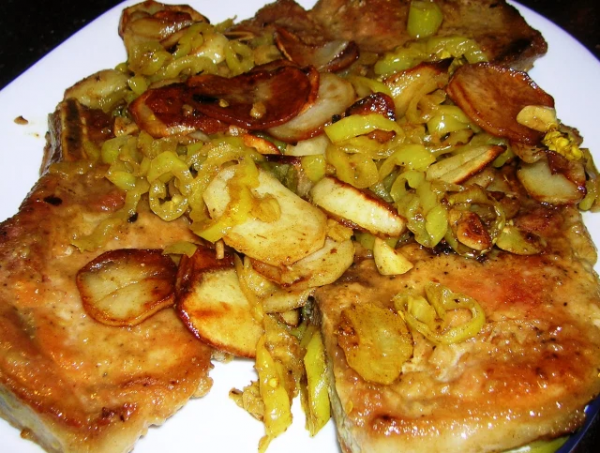 The best kind of pepper to use for this dish are hot cherry peppers in vinegar. For those who cannot take the heat you can also use mild banana peppers in vinegar. As a compromise you can use half and half. If you are using hot cherry peppers, slice them and remove the stem and seeds. That will hold down the heat a bit. The potatoes are a great addition because they absorb and cut some of the vinegar and taste great.
Ingredients
3-4 pork loin chops,  center cut,bone in
1/2 cup all purpose flour
1/4 cup olive oil
3 cloves garlic, sliced
2 cups of Pastene Peperoncini Peppers In Vinegar
1/2  cup of vinegar from the jar of peppers
3 fresh basil leaves
2 medium potatoes, peeled and sliced thin
salt & pepper to taste
Directions
In a medium frying pan, fry the potatoes in half the oil till golden brown and tender. In a separate large frying pan, heat the remainder of the oil.
Salt and pepper your pork chops and dredge the pork chops in the flour, shaking off any excess flour.
 When the oil is hot, with the heat high, brown the pork chops about 3 minutes each side.
Add the garlic and shake the pan to incorporate with the pork chops. Cook about 1 minute.
Add the peppers, reserving the vinegar they came in. Turn and cook the peppers with the pork chops for two minutes. Add the fresh basil and the reserved vinegar from the peppers.  When the pork chops are done, do not over cook, remove them from the pan and place on a platter and keep warm.
Add the cooked potatoes to the vinegar pepper mixture and toss to mix well.
Cover the pork chops with the potatoes and vinegar peppers and serve immediately.