Penne Pasta with Vodka Sauce – Chef John Food Wishes
Penne Pasta with Vodka Sauce 
Chef John Food Wishes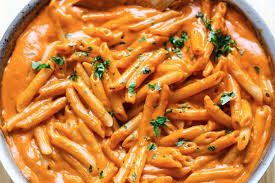 Vodka sauce is an American cuisine sauce made from a smooth tomato sauce, vodka, typical Italian herbs and heavy cream, which gives the sauce its distinctive orange coloration. It gained popularity in the 1970s, when a variation won a national recipe contest in Italy,although it may well have been a sauce before its popularization in the 1970s. It is a key ingredient in penne alla vodka.
The vodka's function is, ostensibly, to release flavors in the tomato that are normally inaccessible; using alcoholic beverages for this purpose is common in Italian cooking, although usually accomplished with wine. It is also an emulsifier, serving to keep the sauce stable, when normally the oil of the cream sauce would react with the acidic tomato sauce to separate from the water in both.
*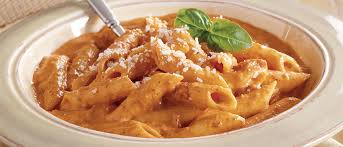 Penne  is a type of pasta with cylinder-shaped pieces. Penne is the plural form of the Italian penna (meaning feather but pen as well), deriving from Latin penna (meaning "feather" or "quill"), and is a cognate of the English word pen. When this format was created in the 19th century it was supposed to imitate the fountain pen's steel nibs.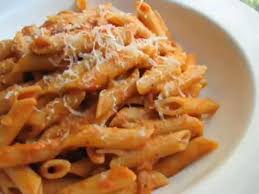 The penne are one of the few pasta shapes with a certain date of birth: in 1865 a pasta maker from San Martino d'Albaro (Genoa), Giovanni Battista Capurro, asked for and obtained a patent for a diagonal cutting machine. The new invention cut the fresh pasta into a pen shape without crushing it, in a variable size between 3 and 5 cm mezze penne (half pens) or penne (pens).
*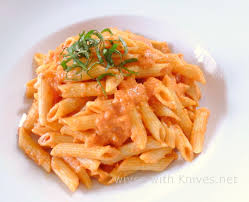 *
Join Joanne and Frank on Facebook at
and