Piadini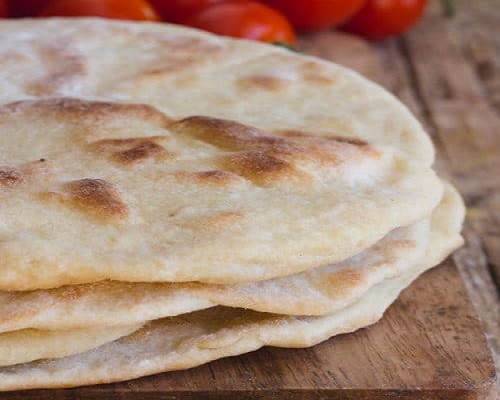 Ingredients:
Makes 10-12-
3 cups all-purpose flour
1 teaspoon salt
1/2 teaspoon baking powder
3 tablespoons olive oil
1/2 cup mixture of half milk, half water
Up to 1/2 cup extra water
Process:
    Combine flour, baking powder, and salt in a bowl.  Create a well in the bottom of the dry ingredients and pour in the olive oil and milk/water mixture.  Using a fork, begin to mix the dough.  Gradually add more water as needed.
    When the dough has come together, form it into a ball.  Knead it on a lightly floured surface for about 10 minutes.  Let the dough rest for about 30 minutes.
    Divide the dough into small balls about the size of a plum.  You should get 10-12 pieces.  Use a rolling pin to roll out each ball to about 1/8 inches thick.
    Heat a pan over medium heat.  When the pan is hot, put one of the piadini into the pan.  Cook for about 30 seconds and then flip.  Continue cooking for 2-3 minutes, flipping several times throughout.  It will puff up during this process, so don't worry.  When finished, the piadini will have brown scorch marks all over it.  Repeat with the other piadini. Serve hot.