Sausage Bread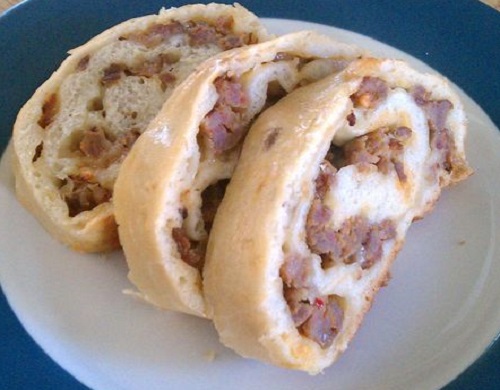 Ingredients:
1 pound pizza dough click here for homemade
1 pound hot Italian sausage
8 ounces mozzarella cheese
1/2 cup romano cheese
1/2 tablespoon dried parsley
1 egg
Procedure:
When the dough is completely thawed, place in a lightly floured bowl.  Cover with a wet towel and set aside for two hours to rise.
    Preheat the oven to 350 degrees.
    Remove the casings from the sausage.  Crumble the sausage into a pan and thoroughly brown.  Drain the sausage and allow to cool slightly.
    On a lightly floured surface, roll the dough out into a rectangle.  Breaking up any remaining large chunks, spread the sausage over the dough, leaving about 1/2 inch around all edges.  Sprinkle the mozzarella and romano cheeses and the parsley over the sausage.
    Starting at one of the narrow ends of the rectangle, roll the dough up.  Pinch the edge to seal.  Turn the edges underneath and pinch to seal.  Place the bread seal side down on a greased cookie sheet.
    Beat the egg in a bowl.  Brush lightly over the top of the bread.
    Bake for 30-40 minutes until the top of the bread is golden brown.  Serve warm