Pork Chops with Figs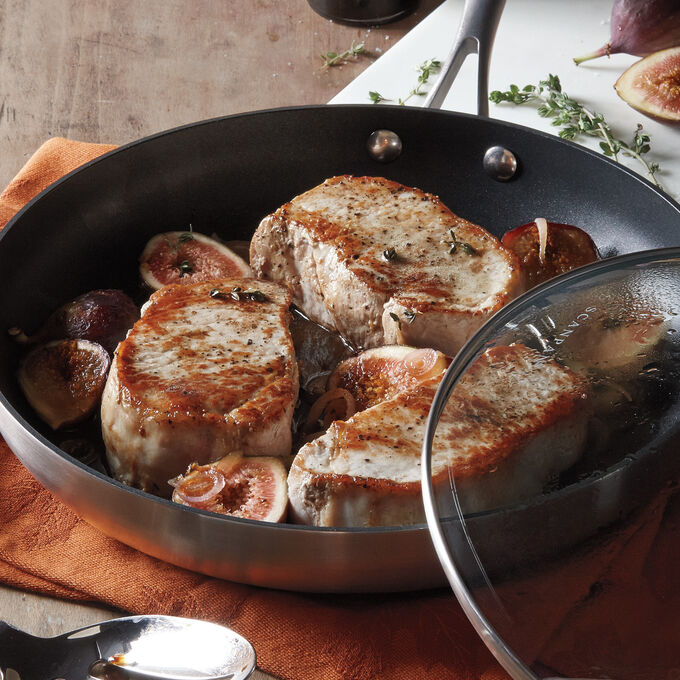 Serves
Makes 4 servings
Ingredients
Brine:
1½ quarts water
6 tablespoons kosher or sea salt
1 teaspoon coarsely cracked black pepper
Handful of thyme sprigs
2 cloves garlic, peeled and smashed with the side of a chef's knife
4 bone-in pork loin chops, about ¾ inch thick
Fig Sauce:
12 fresh Mission figs
1 cup dry Marsala
2 teaspoons finely chopped fresh thyme
2 tablespoons unsalted butter
½ cup finely chopped shallots
1 to 2 tablespoons fig balsamic or regular aged balsamic vinegar
Thyme sprigs, cut into 1-inch pieces, for garnish
Procedure
To make the brine: in a large bowl, combine all the ingredients for the brine, stir until the salt is dissolved. Place the pork chops in a container that holds them snugly in a single layer. Add the brine, which should cover them. Cover with plastic wrap. Alternatively, put the pork and brine into a 1-gallon heavy-duty resealable food storage bag. Refrigerate at least 1 hour and up to 12 hours. About 30 minutes before cooking, remove the pork chops from the brine, pat dry with paper towels and set aside to come to room temperature.
To make the pork: Prepare a moderate charcoal fire for indirect grilling or preheat a gas grill to medium (375°F). Set the chops directly over the coals or gas flame and brown on both sides, turning once, for about 2 minutes per side. Transfer to indirect heat, cover the grill, and cook until the chops register 145°F on an instant-read thermometer, about 3 more minutes. Transfer to a plate and tent with foil while you make the sauce.
To make the fig sauce: Snip the stems from the figs with kitchen scissors. Cut small figs into half or larger figs into quarters. Heat a medium skillet over medium heat, add the butter and once melted, add the shallots and saut&3233; until soft, about 3 minutes. Add the Marsala and thyme and bring to a simmer. Add the figs to the skillet, increase the heat to medium-high, and cook, gently turning figs with a spatula to warm through and coat with the sauce, about 4 minutes. Once the sauce syrupy and reduced by half, add the vinegar and stir to incorporate. Taste and adjust seasoning with salt and pepper and additional vinegar.
To serve: arrange the pork on a warmed platter and spoon the figs and sauce on top. Garnish with the thyme sprigs and serve.
Join Joanne and Frank on Facebook at
and