Steamed Manila Clams with Thyme, White Wine and Sorrel Purée
Steamed Manila Clams with Thyme, White Wine and Sorrel Purée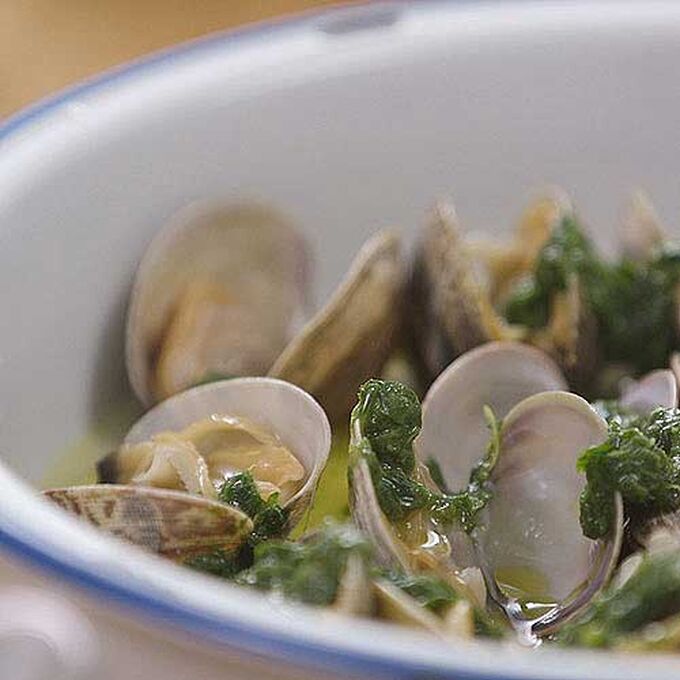 Serves
Makes 4 servings
Ingredients
2 tablespoons olive oil
2 shallots, peeled and sliced
3 cloves of garlic, peeled and sliced
½ bunch of thyme
½ cup dry white wine
2 pounds Manila clams, cleaned
1 lemon
For the purée:
½ bunch parsley, leaves picked and washed
2 bunches sorrel, leaves cleaned and chopped
¼ cup extra virgin olive oil
Salt
Procedure
This beautiful dish is full of color and wonderfully herbaceous flavor. Best of all, you can have it on the table in about 30 minutes.
To cook the clams: Heat a dutch oven on medium. Add the olive oil, shallots, garlic and thyme. Stir until the shallots and garlic are soft but have not colored. Add the wine and cook until the alcohol burns off, about 4 to 5 minutes. Add clams and cover to steam for 8 to 10 minutes.
To make the sorrel purée: Place the parsley, sorrel, olive oil and a good pinch of salt in a blender. Purée until smooth and set aside.
Once clams have opened. place them on a serving platter, discarding any that haven't opened. Spoon some of the steaming liquid and sorrel puré over the clams, top with a squeeze of lemon and serve immediately.
Join Joanne and Frank on Facebook at
and