Pork Tenderloin Stuffed with Blue Cheese and Cognac Figs Recipe
Pork Tenderloin Stuffed with Blue Cheese and Cognac Figs Recipe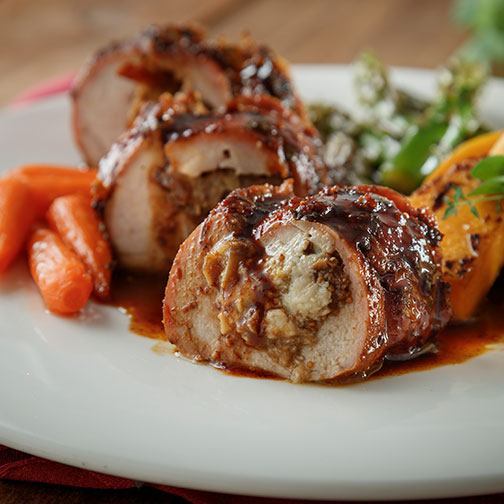 by SteaksAndGame.com
Juicy pork tenderloin is filled with creamy blue cheese and sweet figs with a previous soaking in brandy, then all wrapped together with string for a show stopping main dish that we love for the holidays. Serve with your favorite side, like mashed potatoes or simple roasted seasonal veggies.
Prep Time:
Cook Time:
Total Time:
Yield: 4 to 6 portions
Pork Tenderloin Stuffed with Blue Cheese and Cognac Figs Recipe Instructions
Ingredients
1 ¼ cups dried figs cut in thin strips
1 ½ to 2 cups cognac, to soak figs
4 garlic cloves, chopped
2 tbsp. olive oil
2 Berkshire or Iberico pork tenderloins
8 oz. creamy blue cheese, crumbled
2 tbsp. fresh rosemary, chopped
Salt and pepper
5 tbsp. honey
2 tbsp. chopped parsley
1 tbsp. paprika
1 tsp. oregano
1 tbsp lemon juice
Directions
Put the figs in a bowl with the cognac and let soak at least for 1 hour. Drain and reserve both the cognac and the figs.
Preheat oven to 450F.
Place the garlic in a saucepan with 1 tbsp. of olive oil and 2 tbsp water, until golden and tender, but not brown. Reserve.
Butterfly the pork by cutting along the top, long-side, without cutting all the way through. Then press the tenderloins open flat. With a mallet pound the tenderloin over some plastic wrap, so it flattens some more.
Mix the figs with the garlic cloves, the gorgonzola cheese and the chopped rosemary.
Cut three pieces of kitchen thread. spread the mix over the tenderloins, take each side and close in the middle, and tie with kitchen thread, about an inch apart. Use as many ties as you need.
Mix 1 tbsp olive oil, 2 tbsp honey, the parsley, the paprika and oregano, salt and pepper, and brush the mix over the tenderloins. Cook in a roasting pan for 35 minutes. Mix the cognac con 3 tbsp. honey and lemon juice, and baste the tenderloins during cooking, about every 10 minutes.
When the tenderloins are done, cover the pan with foil and let it rest, covered, for 10 minutes before slicing. Serve in it's own juices.