Grilled Chicken Breasts and Pineapple Kebabs Recipe
Grilled Chicken Breasts and Pineapple Kebabs Recipe
by SteaksAndGame.com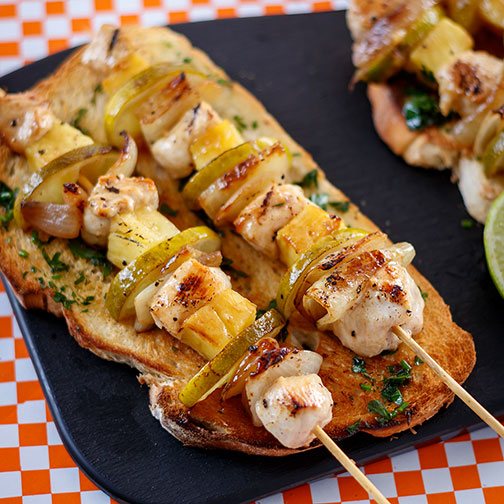 A juicy chicken breast is marinated to perfection and threaded with pineapple in this recipe for grilled chicken kebabs that's perfect for summer!
Prep Time:
Cook Time:
Total Time:
Yield: 8 kebabs
Grilled Chicken Breasts and Pineapple Kebabs Recipe Instructions
Ingredients
For the Chicken Kebabs
3 skinless chicken breasts
1 onion, cut in 4 wedges
4 pineapple slices, cut in 1-inch cubes
2 limes, cut in 1/2 rounds
For the Marinade
1 tsp. powdered ginger
1 tsp. salt
1 garlic clove, grated
½ tsp. fresh ground black pepper
2 tbsp. lime juice
1 cup honey
¼ cup olive oil
For the Herbed Toast
4 big rustic bread slices
1 tbsp. chopped herbs, (chives, oregano, parsley, marjoram)
½ tsp. sea salt
2 ½ tbsp. olive oil
Cilantro for garnish
lime wedges for garnish
Directions
Cut chicken breasts 1 inch thick pieces, trying to keep them even. Place them a plastic zipper bag or a bowl.
In a separate bowl, whisk ginger, salt, garlic, pepper, lime juice, honey and ¼ cup olive oil.  Pour over the chicken, coating evenly, then close or cover and refrigerate – at least 30 minutes.
If you're using classic wooden skewers, soak them in water for 15 minutes. this prevents them catching on fire. Thread the skewers with chicken, onions, pineapple cube and lime, repeating so all skewers are even.
Heat your grill to medium-hot, brush the grates with oil or spray with cooking oil, then place the kebabs directly on the grill. Grill 10 minutes, turning halfway through, until browned and no longer pink inside.
Serve the skewers warm with a side salad or over herbed toast: grill bread on both sides, brush with oil, herbs and sea salt. Finally, garnish with cilantro and lime.