Portobello Mushrooms Stufffed with King Crab
Portobello Mushrooms Stufffed
with King Crab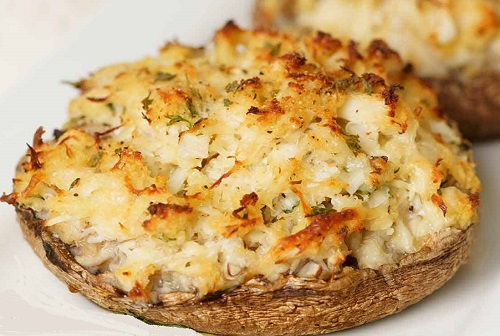 INGREDIENTS
Serves 4 to 6 people.
6 large Portobello mushrooms, cleaned
1 pound of king crabmeat
4 long green onions, finely chopped
1 small red bell pepper, finely chopped
1/2 cups of mayonnaise
1/4 cup of seasoned Italian breadcrumbs
2 Tbls of chopped parsley
1/2 tsp of crushed red pepper flakes
1/2 tsp of salt
1 Tbls of extra virgin olive oil
1 Tbls of melted butter
1 lemon
PREPARATION
Pre-heat the oven to 400 degrees
In a medium size bowl mix the crabmeat, onions, bell pepper, mayonnaise, breadcrumbs, parsley, red pepper flakes and salt.
Place the mushrooms on a baking sheet and stuff with the crab mixture.
Drizzle the top with th olive oil and butter.
Bake for around twenty minutes.
Place under a broiler for another 3 minutes until the top is lightly tasted. Be careful not to burn.
Squeeze some lemon on the top and your ready to serve.