Farfalle with Crab and Shrimp
Farfalle with Crab and Shrimp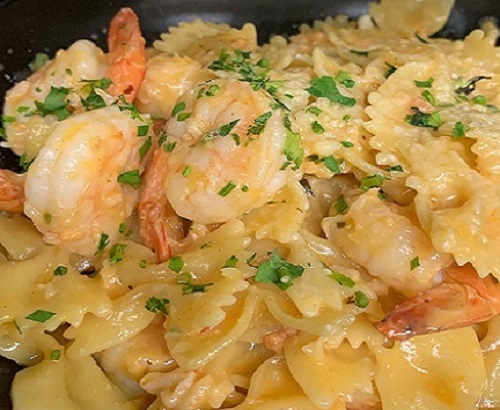 INGREDIENTS
4 servings.
1 pound farfalle pasta
Salt (about 2 tsp. for cooking water)
1 cup heavy cream
One 3-inch piece lemon zest
1/4 teaspoon saffron re-hydrated in tbsp of warm water
2 tablespoons butter
1 tablespoon extra-virgin olive oil
1 shallot, finely chopped
2 cloves garlic, finely chopped
6 to 8 ounces lump crab meat, picked through for shells
16 to 20 shrimp, deveined and tails removed
Pepper
1/2 cup dry white wine or chicken broth
1 teaspoon turmeric
1/4 cup coarsely chopped flat-leaf parsley
PREPARATION
Bring a large pot of water to a boil, salt it, add the pasta and cook until al dente; drain.
In a small saucepan, bring the cream, lemon peel and saffron to a low boil over medium-low heat.
Turn off the heat and let the saffron steep for 10 minutes.
In a large skillet, heat the butter and olive oil, over medium heat. Stir in the shallot and garlic for 1 minute, then add the crab meat and shrimp; season with salt and pepper.
Cook until the shrimp are pink and just firm, 3 to 4 minutes.
Stir in the wine.
Discard the lemon from the cream and pour over the seafood.
Stir in the cayenne and turmeric.
Add the pasta and toss. Top with the parsley.