Prosciutto Ham, Baked Pears and Mozzarella Burrata Appetizer Recipe
Prosciutto Ham, Baked Pears and Mozzarella Burrata Appetizer Recipe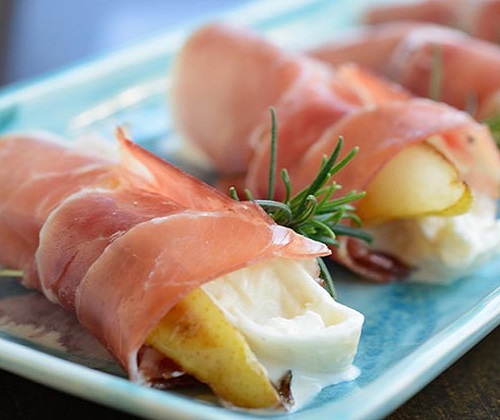 A super easy appetizer that amps up the wow factor! Pears baked in honey and fine Italian balsamic, plus sweet burrata cheese, are rolled up in flavorful prosciutto di parma. Depending on the season, substitute with peaches or figs.
Prep Time:
Cook Time:
Total Time:
Yield: 18 pieces
Prosciutto Ham, Baked Pears and Mozzarella Burrata Appetizer Recipe Instructions
Ingredients
3 pears, washed and cut into six lengthwise wedges

3 tbsps. honey

1 tbsp. aged balsamic

18 slices Prosciutto di Parma

2 fresh burrata balls

4 tbsps. crème fraiche

salt and pepper to taste

Fresh rosemary
Directions
Turn the oven to 375 F

Mix the honey and balsamic vinegar in a bowl, and toss with the pears to coat.

Arrange in a baking sheet, and bake for about 25 minutes, or until tender, turning once. Let cool out of the oven.

Cut the burratta into slices. The slices should be about as wide as the slice of prosciutto.

To assemble, place a slice of prosciutto flat on a board, and brush with crème fraiche. Add salt and pepper. Place a wedge of pear and a slice of burrata, at one end, leaving about ½ inch of prosciutto overlapping. Roll into a tight bundle, then, skewer with a stem of rosemary to hold the shape.