Proscuitto Wrapped Scallops by Chef Derek St. Romain
Proscuitto Wrapped Scallops
Chef Derek St. Romain
Prosciutto Wrapped Scallops: This is one of our favorite ways to enjoy scallops. The recipe is easy, quick, healthy and very tasty. Something you should try with Parma Prosciutto if possible. 
Try it You'll Love it!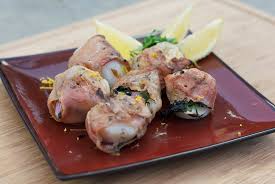 Ingredients
1 pound scallops

1 package sliced prosciutto

1 red onion, sliced thin

10 garlic cloves, slivered

1 bunch cilantro

zest of 3 lemons

salted butter

wasabi sauce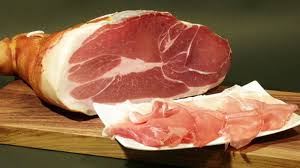 Instructions
Defrost the Scallops and set aside

Place a slice of prosciutto on a cutting board and top with one of the defrosted scallops

Then, layer the following ingredients on top of the scallop:

-Two to three slivers of onions

-One to two pieces of slivered garlic

-A pinch of lemon zest

-A pinch of fresh cilantro

-A small pad of butter

Wrap together with the prosciutto and skewer to hold to hold it together (pre-soak skewers for 20 minutes in water before grilling to prevent them from catching on fire)

To Cook – Heat grill on high and place the skewered scallops directly on the hot grill. Do not allow the prosciutto to burn and make sure to keep moving and turning them. Cook for 3-4 minutes on the high and then turn the heat down or move the scallops to the top shelf of the grill and allow to finish cooking another 6-8 minutes at the most. If not the top shelf, place a piece of aluminum foil on the grill and add more butter to the scallop skewers and place them on the foil.

When finished cooking, top with wasabi sauce and serve!