Red Wine Chocolate Bundt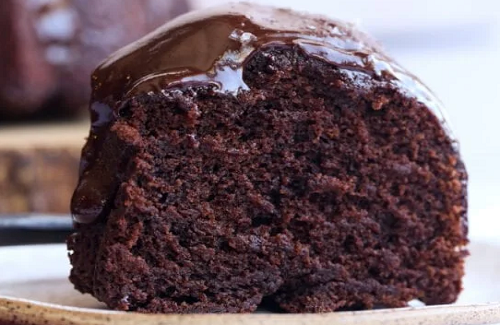 Ingredients
    3.2 oz. Dark chocolate
    8 T. butter
    1 cup brown sugar
    1/3 cup white sugar
    1 egg
    1 cup dry red wine
    1 T. vanilla
    1 1/3 cups flour
    1 t. baking powder
    1/4 t. baking soda
    1/2 t. cinnamon
    1/2 t. salt
Glaze
    3.2 oz. dark chocolate
    3 T. dry red wine
    (optional) dark chocolate shavings
Instructions
    Preheat the oven to 325°F / 165°C.
    Melt chocolate in a double boiler, then set aside to cool.
    Cream the butter and sugars in a stand mixer on medium speed, or by hand.
    Beat in the egg, then beat in cooled chocolate, red wine, & vanilla.
    Add flour, baking powder, baking soda, cinnamon, & salt to the bowl. Slowly fold dry ingredients into the batter just until combined.
    Pour batter into a well-greased, floured bundt pan.
    Bake at 325°F / 165°C for 25-30 minutes, until a knife in the center comes out clean.
    Cool cake in the pan for 15 minutes, then flip onto a wire rack to finish cooling.
Glaze
    Melt chocolate in a double boiler, then remove from heat. Whisk in red wine until smooth.
    Drizzle glaze over cooled cake. Immediately top with dark chocolate shavings, if using.
    Let set for at least 15 minutes before slicing, or overnight.