Roasted Pepper & Sausage Stew
Roasted Pepper & Sausage Stew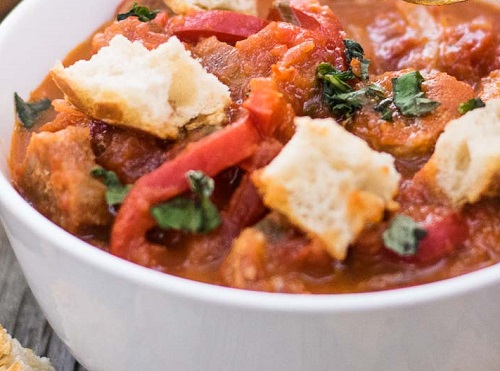 Ingredients
    4 red bell peppers sliced
    2 large sweet onions thinly sliced
    1 T. olive oil
    1 t. salt
    1 lb. italian sausage links
    2 T. butter
    3 cloves garlic minced
    2 1/2 cups beef or garlic broth
    28 oz. diced tomatoes
    1/4 cup fresh basil finely sliced
    croutons for topping
Instructions
    Preheat oven to 450°.
    Toss peppers & onions in olive oil. Spread on a foil-covered rimmed baking sheet and sprinkle with salt.
    Roast at 450° for 30 minutes.
    While peppers & onions are roasting, brown sausage links in a large pot. Remove and slice into 1/4-inch rounds.
    Melt butter in the pot with sausage drippings. Saute garlic over low heat until fragrant.
    Transfer half of peppers & onions to the pot and half to a blender. Add broth to the blender and blend on high until smooth, then pour into the pot.
    Add sliced sausage & tomatoes to the pot. Bring stew to a simmer and cook for 10 minutes.
    Add basil and cook for another minute, then remove from heat. Serve hot topped with croutons.