Roasted eggplant, peppers, mushrooms,
Roasted eggplant, peppers, mushrooms,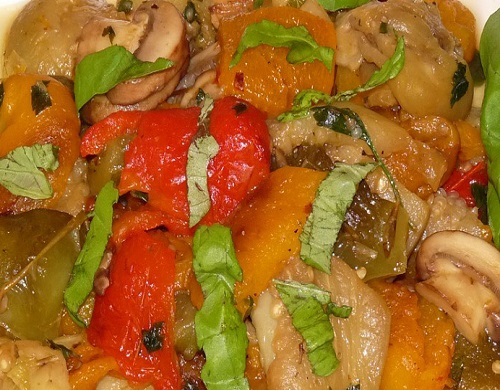 ROAST PEPPERS
4 peppers – one of each color: green, yellow, red, orange
Olive oil for brushing
Arrange the 4 peppers whole on a baking sheet – brush with olive oil on all sides.
Place pan in oven under broiler as close as you can get to the broiler without touching it.
When one side starts to blotch and blacken, using tongs turn the peppers and blacken each side. See photo. Watch them carefully, and do not let peppers get too black or scorch. Results are rapid. Don't walk away. This is not a time to call your best friend to brag that you are roasting your own peppers. FOCUS!
When finished, using tongs, place the peppers in a bowl and quickly cover tightly with plastic wrap for 15 minutes. This will steam the skins and make removal easy.
Peel all of the skins off the peppers. They will slide off easily. Assist with a fork if needed.
Remove the stem from each pepper – this will practically fall off. Scrape the seeds off with a fork. You don't want to see seeds in this dish.
Cut the peppers into large pieces- 2-3 inches. Do not chop in small pieces. See photo.
Set aside.
ROAST EGGPLANT
1 Med.-Large Eggplant – skinned & sliced, ready for pressing (see below)
Olive oil for brushing
Kosher Salt
Slice lengthwise in 1/2 in. thick slices – usually 4-6.
After pressing, place eggplant slices in pan and brush with oil. Sprinkle with a little Kosher salt. Roast at 425 degrees for 12 minutes. Turn once halfway through.
Cut eggplant into large pieces.
TO SAUTE
2 tbsp. oil
3 cloves garlic sliced lengthwise
2 1/2 c. Sliced Baby Bella or Cremini Mushrooms ( these give an earthier flavor)
Roasted Peppers
Roasted Eggplant
3/4 c. White Wine
1 tbsp Fresh Lemon Juice
1 tbsp Fresh Oregano (2 tsp if dried)
1/2 c. Fresh Flat Leaf Parsley
1 tsp Kosher Salt or to taste
Freshly Ground Black Pepper to taste
Fresh chopped basil for garnish
Saute garlic in oil. When just becomes golden, add mushrooms and saute til just tender.
Add eggplant, peppers, wine, lemon and herbs, salt, pepper at med. high. Stir occasionally and let wine cook down. A lovely sauce should remain. If you "must" add butter, this would be the time – but only a tablespoon. I find it rich, delicious, and buttery without the added fat.
Garnish with fresh basil.
 You can serve this warm or cold as an antipasto, first course, or side dish. Try something different by adding roasted zucchini, broccoli, cauliflower, brussel sprouts, butternut squash, and/or roasted potatoes – even sweet potatoes. Serve it over roast chicken