Roasted Zucchini Pasta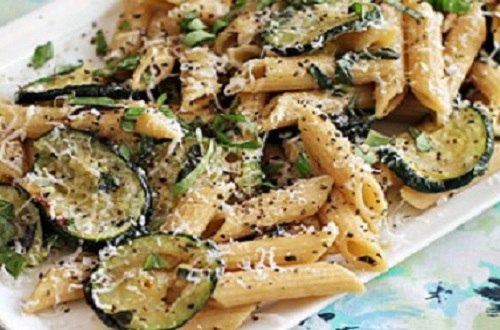 Ingredients
    Makes 4 servings
        2 pounds medium zucchini, trimmed, cut into 1/4-inch-thick rounds
        1 small sweet Vidalia onion or 4 shallots, thinly sliced
        3 garlic cloves, thinly sliced
        4 tablespoons olive oil, divided
        1 teaspoon kosher salt
        1/2 teaspoon freshly ground black pepper
        8 ounces penne or ziti, dry, preferably whole grain
        1/4 cup chopped fresh basil
        1/4 grated Pecorino Romano cheese
        Feta or goat cheese, to taste (optional)
        Optional additions: sun-dried tomatoes, sliced plum tomatoes, fresh corn, black olives, mushrooms, toasted pine nuts, pesto, roasted red pepper
Directions
Preheat oven to 425 degrees F.
Toss zucchini, onion, garlic and 3 tablespoons oil in bowl.
Spread into a single layer on a large rimmed baking sheet.
Sprinkle with salt and pepper.
Roast until zucchini is lightly browned, turning once, 15 to 20 minutes.
 In the meantime, prepare the pasta according to the package directions. Reserve 1/2 cup of cooking liquid before draining the pasta.
Return pasta to pot. Toss with 1 tablespoon olive oil; cover and set aside.
Stir the roasted vegetables into the pasta.
Add 1/4 cup pasta cooking liquid, and stir over medium heat until heated through.
 Add basil and cheese. Toss, adding reserved cooking liquid by tablespoonfuls to moisten if dry.
Taste, and adjust your seasonings. Serve immediately.