Chicken Parm Stuffed Zucchini
Chicken Parm Stuffed Zucchini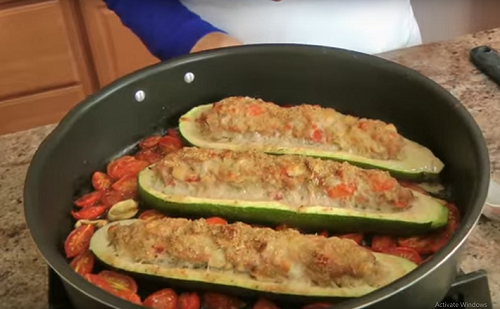 Ingredients
Servings Serves 4
    2 to 3 Large Zucchini, halved lengthwise and center scooped out
    1 lb of Ground Chicken
    1/2 Small Yellow Onion, finely chopped
    2 Cloves of Garlic, minced
    1 Tbsp of Olive Oil
    1/2 cup of Halved Cherry Tomatoes or you can use canned diced tomatoes
    1 tsp of Italian Seasoning
    1/4 cup of Shredded Mozzarella
    1/4 cup of Freshly Grated Parmigiano plus a bit more for the top
    1 Egg
    2 Tbsp of Breadcrumbs
    Fresh Basil Leaves
    Couple of cups of halved cherry tomatoes
    Few Cloves of Garlic, peeled and smashed
    Salt and Pepper, to taste
Preparation
    1) Preheat your oven to 400 degrees.
    2) In a small skillet add the olive oil, allow it to preheat over medium heat, add the onion and cook for about 3 minutes or until softened, add the garlic, Italian seasoning and diced tomatoes and cook for another 30 seconds, remove from the heat and allow to cool.
    3) In a bowl, mix together the ground chicken, onion mixture, mozzarella, Parmiggiano, egg, salt and pepper, mix together well.