Salmon with Lemon Butter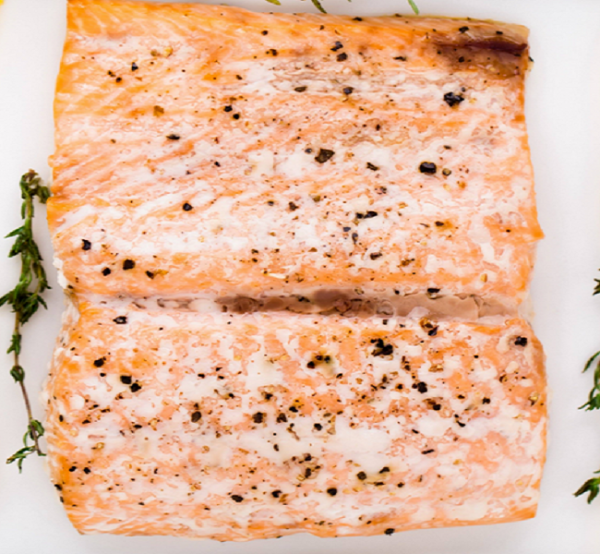 a quick sear in a hot pan with a lemon butter sauce.
---
INGREDIENTS
1 lb of fresh salmon (skin on) cut into two filets
Grapeseed oil or vegetable oil
3 cloves garlic
Juice from ½ lemon
3 Tbsp butter
¼ cup white wine
Salt
Pepper
TOOLS YOU NEED
Abbio Large Nonstick Skillet
Chef's knife
Cutting board
Rubber spatula
Rubber tongs
PREP
Let the salmon come to room temperature out of the refrigerator and pat it dry with a paper towel
Slice the garlic very thinly
Juice the lemon
RECIPE DIRECTIONS
Add oil to the pan on medium / high heat. Watch for your oil to shimmer without smoking.
Add the salmon to the pan skin-side up sear for 3 minutes. Resist the temptation to move the salmon around the pan. Let it develop a crust. Sprinkle with a pinch of salt and pepper.
Flip the salmon over and cook another 3 minutes. salmon will change from a raw color to pink as it cooks. After 6-8 minutes total of cooking, check for doneness by taking a sharp knife to the thickest part. The salmon is done when it's beginning to flake but has a small amount of the raw color left in the middle. Don't worry, it'll keep cooking when you pull it off the stove to rest and will be perfect when you serve it at the table.
Take the salmon out of the pan and set to the side. Add the butter to the pan on medium heat and wait for it to melt.
Add the garlic to the pan and stir briefly until the garlic softens and just starts to turn a golden color (but does not brown), about 2 minutes.
Add the white wine to the pan and let it cook down for 1 minute
Add the lemon juice, stir and taste. Season your sauce (as needed) with salt.
Plate your salmon and pour you lemon butter sauce over the fillets.