Sbrisolona, crumble cake from Mantua
Sbrisolona, crumble cake from Mantua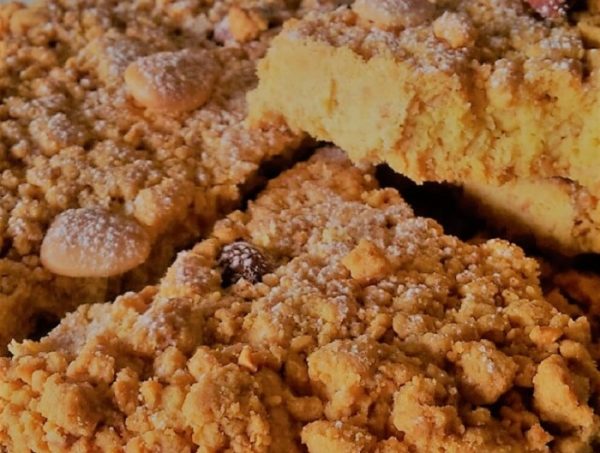 Serves 12
A classic crumble cake from Mantua.
Ingredients
7 oz almond or almond meal

8.8 oz all purpose flour

5.3 oz cornmeal

7 oz caster sugar

4.2 oz butter

3.5 oz pork lard

2 yolks

1/2 lemon zest

1/2 vanilla pod seeds
topping
caster sugar

chopped hazelnuts
Instructions
Use a mixer with blades and insert almonds (or almond meal), lemon zest, vanilla seeds and yolks.

Mix a little then add flour and cornmeal, butter, lard and sugar.

Mix again or use your finger tips to put the dough together.

The dough must be very crumbly; in a baking mould put crumbles and make a layer of about 1, 1 and 1/2 inches.

Do not press the dough, just pour crumbles in the pan.

Sprinkle with caster sugar and chopped hazelnuts.

Bake at 356°F for about 1 hour or untill it's pretty gold.

You can cut it with a knife when cold but of course it will crumble a lot and pieces will not be even.

You can store it in a tin box for more than a week.
Notes
The quantities in this recipe are generous, you can make 2 round pans 10 inches diameter; you can put half the dough, raw, into a ziplock bag and freeze it up to 3 months and bake it later.
Join Joanne and Frank on Facebook at
and