Seared Jidori Chicken Breasts Recipe
Seared Jidori Chicken Breasts Recipe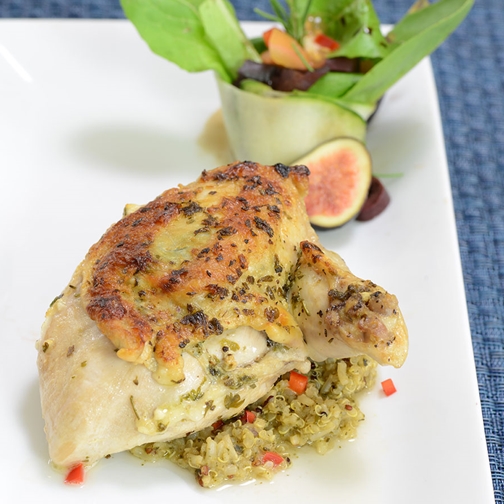 A delicious recipe for our all natural Jidori chicken that lets the bold and
natural fresh flavor of the chicken really come through. The breasts are split and stuffed with aromatic, fragrant herbs like parsley  and rosemary, then simply sauteed with butter and oil. The finishing touch is an easy fresh goat cheese sauce that adds an extra layer of richness to the chicken.
Perfect to serve with rice, or potatoes and a fresh baguette to soak in that tasty sauce!
Prep Time: 10 minutes
Cook Time: 20 minutes
Total Time: 30 minutes
Yield: Serves 4
Seared Jidori Chicken Breasts Recipe Instructions
Ingredients
2 Jidori chicken breasts, split, skin on
3 cloves of garlic, minced;
1/2 cup of chopped fresh parsley
2 tbsp. oregano
3 tbsp. chopped rosemary
1 small fresh goat cheese
1 cup of good white wine
1 cup of chicken stock
2 tsp. extra virgin olive oil
1 tsp. butter
Salt and pepper , to taste
Directions
In a medium bowl mix the garlic, parsley, rosemary and the oregano to create a stuffing.
Take each chicken breast and with your hand, stuff the mix in between the skin and the meat.
Season with salt and pepper and reserve on a plate..
Heat up the olive oil and butter in a large pan, and start adding the chicken breasts one at a time, skin first.
Cook until they are browned and then flip and continue cooking.
Add the chicken stock and the wine, let everything cook for a couple minutes, then reduce the
heat medium-low and remove the chicken breast from the pan, reserving on a plate.
Toss in the crumbled goat fresh goat cheese and mix with a whisker until it melts
and the mix transforms into a sauce. Add the chicken back to the pan, cover and cook for 2-3 minutes.
Plate the chicken and drizzle a generous amount of cheese sauce over it.
Serve with your favorite side like couscous, roasted potatoes, wild rice or short pasta.