Sebastian Maniscalco – The Evil Eye – Il Malocchio
Sebastian Maniscalco
Il Malocchio
The Evil Eye
Do you remember the Mal' Occhio…. The Evil Eye ? I do….
When I was a kid in Willow Grove Pennsylvania I recall a story where a guy from Norristown actually believed a man down the street gave him the Mal' Occhio curse. In retaliation he actually killed the guy and two of his family members. That is a true story. And it wasn't a century or more in the past it was in the '60's in America. 
This is a very short but cute video featuring the very funny Sebastian Maniscalco and his story about his family and the Evil Eye.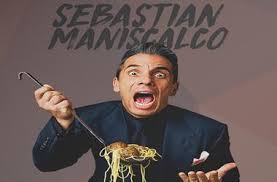 The power of horns as phallic symbol can be reproduced using amulets in forms of horns: these amulets are called "cornetti" and are very common in Italy. They usually look like a red hot pepper, since they are colored in red. The color red is being used because in the past to obtain the the strongest effect the amulet had to be made from red coral. You can see "cornetti" against the Malocchio basically everywhere, hanging somewhere in Italian cars and places to take away the evil eye from that person, family or activity.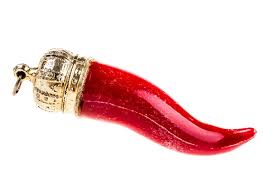 Il Malocchio is a condition of unluckiness that comes from someone or something else. Its origin usually lies in envy and according to elders the bad luck can be caused intentionally and unintentionally.

The origin of this belief can be dated back as far as the ancient Greeks and Romans. They believed in the negative power of envy. A state that can cause an enormous amount of bad luck to the envied subject.
Humans were warned to not brag too much because even Immortal Gods could become jealous of human happiness and luck and destroy their life. Many Italian still don't say a baby or child is beautiful, neither do they want to hear someone saying this about their child.
This can cause il Malocchio.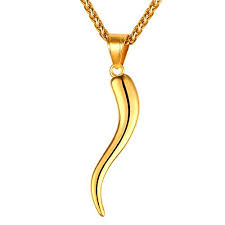 So, as you can see, talking about Malocchio is talking about the same origin of what nowadays is Italian culture. Besides knowing the origin of Malocchio and that avoiding making people too jealous is how to prevent it, it is very important to know how to find out if you are the subject of the evil eye.
According to popular traditions there is a list of signs that may indicate this. Think of: being particularly goofy, losing things and missing opportunities, doing bad things while we usually do good which also can be felt as a sensation of illness and weakness.

To avoid and protect themselves from il Malocchio Italians use amulets. Protective gestures are very important. For example; when someone is talking with a lot of pride, he can use the expression "facendo corna" close the hand in a fist rising the forefinger and the little finger creating a pair of horns.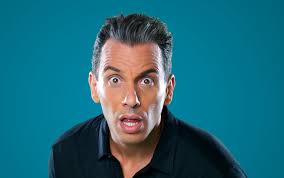 Horns are a very powerful symbol to avoid il Malocchio and bad luck in general. Italians can make this gesture when they see someone that they consider particularly envious, able to bring bad luck or when someone is wishing something bad. Another gesture is touching something made of iron or touching the genitals (for men). 
Hope you enjoy Sebastian's
Funny V
ideo Below
*
Then Join Dominic and Frank on Facebook at Everybody Loves Italian where we forever celebrate
Life, Love and the Italian Experience.