Sicilian Chickpeas with Escarole and Caramelized Onions
Sicilian Chickpeas with Escarole and Caramelized Onions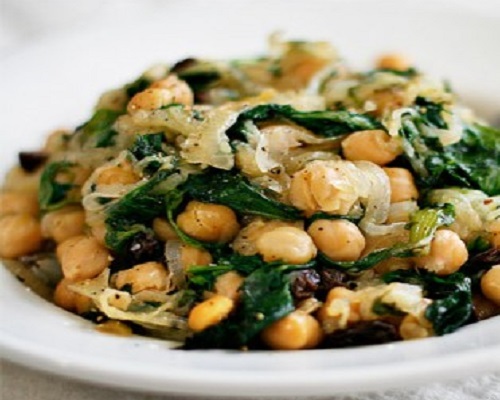 Ingredients
  Makes 4 servings
        1 large escarole (or endive) (about 1 1/2 pounds)
        1/4 cup extra-virgin olive oil
        2 medium onions, halved and thinly sliced
        2 teaspoons sugar
        1/4 cup dark raisins
        Salt and freshly ground black pepper
        3 cups drained Basic Chickpeas (recipe below), plus 1/3 cup cooking liquid reserved OR 3 cups canned chickpeas with 1/3 cup canning liquid reserved

Directions
        To Prep the Escarole: Discard any tough leaves. Trim and discard the core and any tough stems. Wash the leaves in a large bowl of cold water. Tear the leaves into large pieces, and set aside.
        Heat the oil over medium heat in a large sauté pan. Add the onions and cook, stirring often, until golden, about 15 minutes. Stir in the sugar, and continue cooking until the onions are golden brown, about 5 minutes.
        Add the raisins and escarole. Cook, turning the escarole occasionally, until the leaves are tender, about 6 minutes. Season with salt and pepper to taste.
        Stir in the chickpeas and their liquid. Simmer, stirring occasionally, until the flavors have blended, about 3 minutes. Adjust the seasonings, and serve immediately.
    Basic Chickpeas
Makes about 6 1/2 cups
Ingredients
        1 pound dried chickpeas (2 1/2 cups)
        3 large garlic cloves
        2 bay leaves
        Salt
Directions
        Place the chickpeas in a large bowl, and add enough cold water to cover them by several inches. Soak them for at least 8 hours or overnight. (Or, bring the chickpeas and water to a boil in a large saucepan, reduce the heat to low, and simmer for 2 minutes. Then, turn off the heat, cover and set aside for 1 hour.)
        Drain the chickpeas, and transfer them to a large saucepan. Add enough cold water to cover them by several inches. Add the garlic and bay leaves, and bring to a boil. Reduce the heat to low, and simmer until the chickpeas are still a little firm, tender but not falling apart, 35 to 60 minutes, depending on the freshness of the chickpeas and how long they were soaked.
        Add salt to taste, turn off the heat, and let the chickpeas cool in their cooking liquid. (The cooled chickpeas and cooking liquid may be poured into a large airtight container and refrigerated for up to 3 days. Or, divide the cooled beans and cooking liquid among several smaller airtight containers, and freeze for up to several months. Thaw before using.)
        Reserve 1/3 cup of the cooking liquid and set aside before draining the chickpeas. Discard the garlic and bay leaves. Use the chickpeas and cooking liquid in recipes or season as desired.