Baked Spinach Rigatoni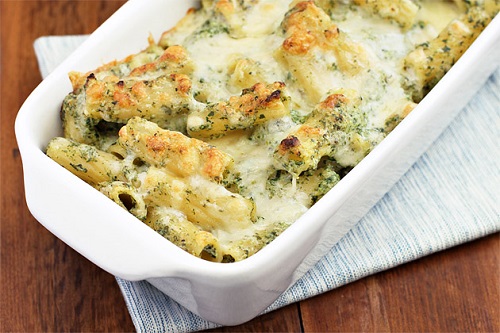 Ingredients
   Yield: 8 servings
        1 pound rigatoni
        3 tablespoons olive oil, divided
        1 10-ounce package frozen spinach, thawed (that's about 5 ounces fresh spinach)
        2 cups (about 1 pound) ricotta cheese
        5 tablespoons grated Parmesan cheese, divided
        3/4 teaspoon salt
        1/4 teaspoon freshly ground black pepper
        6 ounces (about 1 1/2 cups) cheese of mozzarella or fontina, Gouda, Muenster
Directions
        Preheat the oven to 450 degrees F. Lightly grease a 9-by-13-inch baking dish with nonstick spray or olive oil.
        Bring a large pot of salted water to a boil, add the rigatoni, and cook for 12 minutes. Drain. Transfer the pasta to a large bowl, and toss with 1 tablespoon olive oil.
        Meanwhile, squeeze as much water as possible from the spinach. Put the spinach in the food processor. Add ricotta, 3 tablespoons of Parmesan, salt, and pepper. Stir in half of the cheese.
        Add the spinach mixture to the pasta, and stir to combine. Taste it, adjust your seasonings, and transfer to your prepared dish.
        Top with the remaining cheese and Parmesan.
        Drizzle the remaining 2 tablespoons of olive oil over the top, if you'd like. Bake until the top is golden brown, 12 to 15 minutes.