Fried Artichokes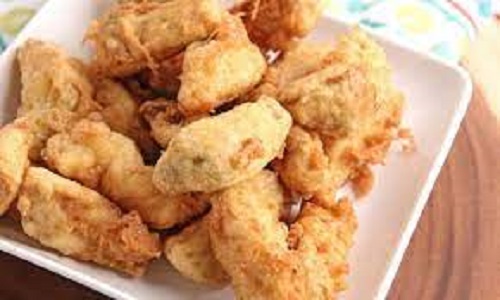 Ingredients
Serves 4 to 6 as an appetizer
    1 lb of Frozen or Canned Artichoke Hearts, (quartered if whole)thawed and drained well
    1/2 cup of All Purpose Flour
    4 Eggs
    1/2 cup of Freshly Grated Parmigiano Reggiano
    Salt and Pepper, to taste
    Vegetable Oil for Frying
Preparation
1) Add some oil to a frying pan (I prefer a cast iron pan) preheat it and allow it to get nice and hot.
    2) In a bowl, whisk together the eggs, cheese, salt and pepper and set aside.
    3) Dredge the artichoke hearts in the flour, then add them to the egg mixture, toss them to coat well and allow them to sit for just a few minutes.
    4) Working in batches, fry the artichokes in the hot oil for just a couple minutes or until they turn golden brown, flipping them as they cook for even cooking.
    5) Drain them on a paper towel lined plate and dig in!