Sicilian Tuna with Warm Tomato-Caper Salsa
Sicilian Tuna with Warm Tomato-Caper Salsa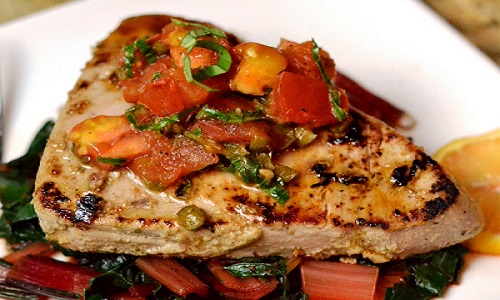 For tuna:
1 tablespoon olive oil
1 tablespoon fresh lemon juice
2 anchovy fillets, finely chopped
1 garlic clove, finely chopped
1/2 teaspoon dried oregano
2 wild-caught tuna steaks, 6 oz each
For sauce:
1 teaspoon olive oil
1/2 cup diced fresh tomato
1 tablespoon drained capers, roughly chopped
2 tablespoons chopped fresh basil
1 tablespoon lemon juice
salt and pepper, to taste
Directions
For the tuna, whisk together the olive oil, lemon juice, minced anchovies, and oregano.
Place the tuna in a resealable bag and and pour in the marinade mixture. Turn to coat, and seal the bag, pressing out as much air as you can.
 Marinate for 30 minutes at room temperature, or longer in the refrigerator.
To make the sauce,
Heat the olive oil over medium heat.
 Add the diced tomato and capers, and simmer for about five minutes.
Stir in the capers, basil, lemon juice, salt, and pepper.
Remove from heat.
Cooking the tuna
Meanwhile, heat lightly oil (or spritz with cooking spray) a large stainless skillet and place over high heat. Remove the fish from the bag, and shaking off excess marinade, and sear for about 2 minutes per side, until just barely opaque in the center. (Alternatively, grill the fish over high heat.)
Plate the fish and top with the warm sauce.