Swordfish with Lemon and Capers
Swordfish with Lemon and Capers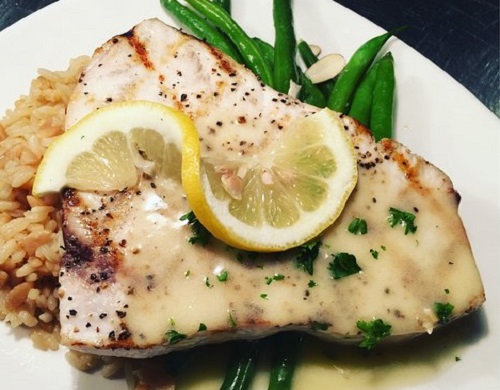 Ingredients:
-Serves 4-
4 tablespoons extra virgin olive oil
2 cloves garlic
4 swordfish steaks, about 6 ounces each (about 1 1/2 pounds total)
Salt
Pepper
1/2 tablespoon oregano
1 lemon
2 tablespoons capers
Process:
    Put the oil in a large skillet and put over a medium-high heat.  When the oil is hot, add the garlic cloves. Saute the cloves about 2 minutes, just to infuse the taste with the olive oil.  Remove and discard the garlic.
    Season the swordfish with salt, pepper, and oregano.  Add the swordfish to the pan.
    Squeeze the juice from one half of the lemon over the fish.  For swordfish that is about 1 inch thick, cook about 5 minutes per side, or until it is just cooked through.  It's important to keep an eye on it.  Swordfish cooks, and overcooks, very quickly.
    About 1 minute before the swordfish is done, add the capers to the pan.  If you add them at the beginning, they will burn.
    Remove the swordfish from the pan and transfer to a plate with the capers.  Squeeze the remaining lemon juice over fish.  Garnish with some lemon zest.