White Wine Chicken with Green Olives
Chicken with Green Olives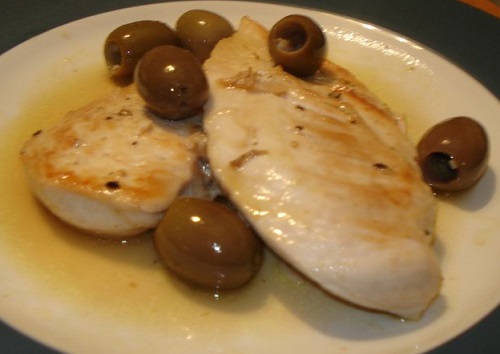 Ingredients:
Serves 2-3-
2 large chicken breasts
Salt
Pepper
2 tablespoons extra virgin olive oil
2 cloves garlic, minced
1/2 cup white wine
1/2 pound green olives, pitted
Process:
    Trim the fat off of the chicken and cut each breast in half to produce 4 thinner pieces of chicken.  Season the chicken with salt and pepper.
    Heat the olive oil in a large skillet over medium heat.  Add the chicken.  Cook until golden brown on both sides and cooked through, about 5-10 minutes per side.
    Add the garlic and let it cook about 2-3 minutes.  Be careful not to let the garlic burn.
    Turn the heat down to low.  Add the wine.  Scrape the bottom of the pan to remove the browned bits.  Cover and let simmer about 5 minutes.  Add the olives, cover the pan again and let simmer another 15 minutes to soften the olives.  Serve hot with some of the wine sauce poured over top.