Sicilian Veal Roulades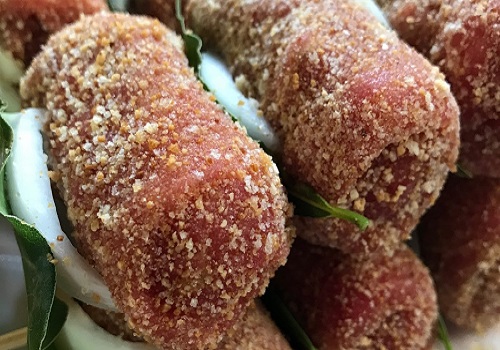 Ingredients:
4 veal cutlets
5 oz grated Pecorino Sicilian cheese
2 eggs
4 oz grated breadcrumbs
3 cloves of garlic
1 tbsp chopped parsley
Extra virgin olive oil
1/2 cup white wine vinegar
Zest of 1 lemon
Salt and pepper
Directions:
Flatten the veal cutlets with a meat mallet and marinate them in the vinegar with the lemon zest and a few grains of black pepper.
Chop the garlic and parsley.
Mix with the grated Pecorino cheese in a soup bowl.
Beat the eggs in a separate bowl.
Remove the slices of veal from the marinade and dry them with paper towels.
Dip them in the egg, then in the spiced Pecorino cheese, on one side only.
Roll the slices with the cheese on the inside and pin the edges with a tooth pick.
Dip the roulades in the egg again and then cover with the breadcrumbs.
In a deep pan fry the roulades in abundant olive oil, turning them frequently. Serve immediately. Serves