Spaghetti allo scoglio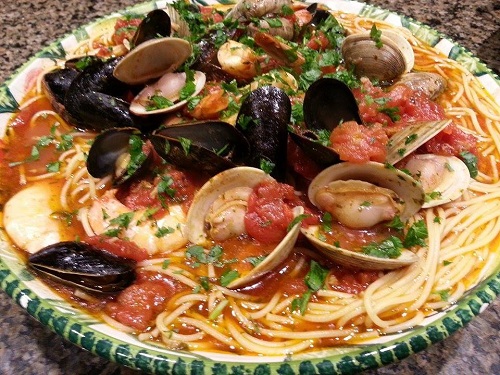 Ingredients:
1 pound spaghetti
2-1/2 pounds shellfish  (a combination of small clams, mussels, and scallops)
5 tablespoons extra-virgin olive oil
3-4 garlic cloves, finely chopped
Pinch red pepper flakes
Salt and freshly ground black pepper
1/2 cup dry white wine
2 cups clam broth
2 tablespoons tomato paste
2 tablespoons chopped flat-leaf parsley
Directions:
While you are preparing the sauce, cook the spaghetti until al dente.
Scrub the clams and mussels well and rinse the scallops.
Heat the olive oil, garlic, and red pepper in a large deep skillet over medium heat. Saute the garlic until lightly golden brown, about 1 minute.
Add salt and pepper to taste. Add the wine and allow to simmer for 1 minute.
Add the clam broth and bring to a boil. Stir in the tomato paste until well blended. Reduce the heat to a simmer and add all of the shellfish.
Cover and cook until the clams and mussels open and the scallops are tender.
This only takes a few minutes. Remove the pan from the heat.
Drain the spaghetti and transfer it to the skillet with the sauce; gently toss.
Transfer pasta and sauce to a serving platter and sprinkle with parsley.