Tortellini Antipasto Salad
Tortellini Antipasto Salad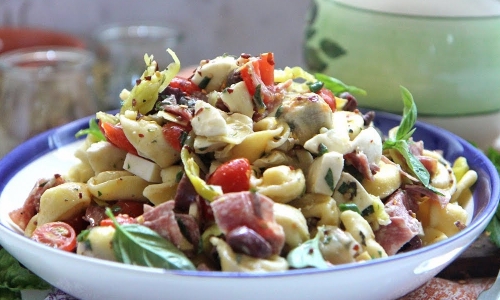 Ingredients
    1-1/2lb of Fresh or Frozen Tortellini (see notes if using dried) cooked and drained
    4oz of Salami, chopped
    4oz of Provolone, diced
    8oz of Fresh Mozzarella, diced
    8oz of Cherry Tomatoes, diced
    1 cup of Marinated Artichokes, chopped
    1/4 cup of Black Olives, halved
    Fresh Parsley, chopped
    Fresh Basil, chopped
    3 Scallions or Chives, chopped
    1/2 cup of Sliced Peperoncini
    For the dressing:
    1 Tbsp of Whole Grain Mustard
    3 Tbsp of Red Wine Vinegar
    1 Tbsp of Balsamic Vinegar
    1/2 cup of Olive Oil
    1 Clove of Garlic, grated
    1/4 cup of Freshly Grated Parm
    1/2 tsp of Sugar
    Salt and Pepper, to taste
Preparation
    1) In a large bowl, add all the ingredients for the salad, toss and set aside.
    2) In a separate small bowl, whisk together all the ingredients for the dressing, pour half the dressing to the salad toss well and if you need to add the remaining dressing go for it or serve it along side! Cover and refrigerate for about an hour before serving.
NOTES:
I prefer using fresh or frozen tortellini for this, if you're using a dried tortellini, use 3/4 or a pound because dried tortellini really plumps and swells. Add whatever you'd like to this, there's absolutely no rule to it!
    If you plan on making this the day before serving, allow it to sit at room temperature for about 45 minutes before serving!