Spitini a la Siciliana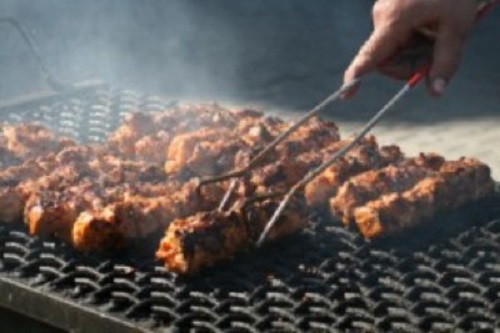 Spitini a la Siciliana is an old Sicilian dish which involves rolling up various meats that are stuffed with cheeses, breadcrumbs, onion, etc. and grilled on skewers to perfections. This dish is also referred to as Spidini or Spiedini and is traditionally made with veal. The stuffing used for this dish varies from family to family. The one thing everyone agrees on is that they are a delicious alternative to regularly prepared Italian dishes.
INGREDIENTS
Serve 4 people
8 boneless pork cutlets. You can also use veal, beef, or chicken.
4 long green onions, finely chopped
2 cloves of garlic, finely chopped
3 slices of bacon, cooked and crumbled
3/4 cup of seasoned bread crumbs
1/4 cup of freshly grated Pecorino-Romano cheese
1/8 cup of fresh parsley, chopped
1/2 tsp of salt
1/2 tsp of freshly ground black pepper
1 16.5 oz can of tomato sauce
PREPARATION
Between two sheets of waxed paper, pound out the cutlets until around 1/4 inch thin.
In a small bowl mix together the onions, garlic, bacon, breadcrumbs, cheese, parsley, salt and pepper.
Spoon in the tomato sauce a little at a time to form a paste.
Spread the mixture evenly on top of the pork cutlets and roll up securing the ends with toothpicks.
Season the outside with a little more salt and pepper.
Prepare the grill or broiler.
Grill or broil slowly for around 30 minutes turning once. .