Split Pea Soup with Broccoli Rabe
Split Pea Soup with Broccoli Rabe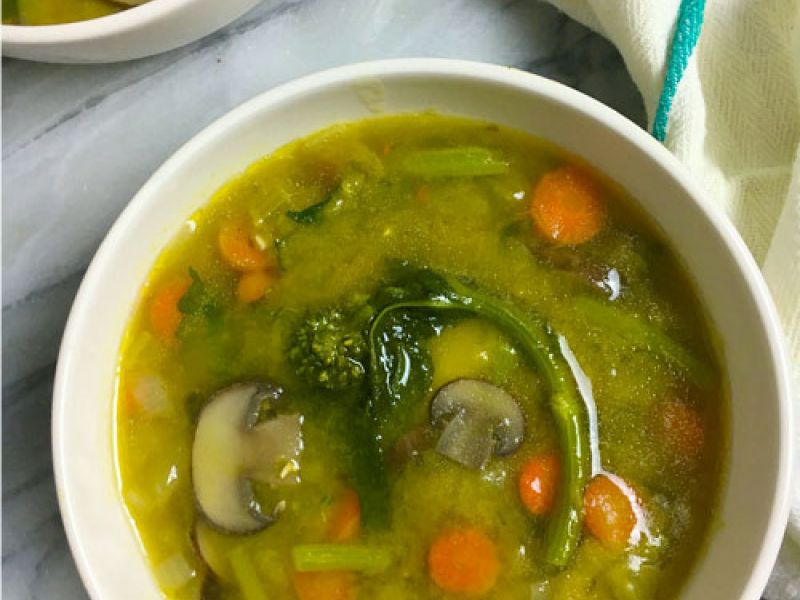 by
Although most of my recipes are inspired by a Nonna, this one is all my Mamma Angela! She's always been a little more "sbrigativa" in the kitchen but always ends up making something delicious in no time at all. This soup is light and delicious while still being hearty and comforting. As a true Pugliese girl I love the bitterness of the broccoli rabe against the sweetness of the split peas. I hope you do too! Make sure you serve this with a drizzle of good quality olive oil "a crudo".
Ingredients
For
4

Person(s)
For the Soup:
2

Bouillon cunes, you can use any flavor you like

10

cups

water, you can also use an equal amount of broth instead of water and bouillon cubes

16

ounces

green split peas, rinsed

1

medium onion, cut into a 1/4 inch dice

2

carrots, cut into a 1/4 dice

1

celery stalk, cut into a 1/4 dice

8

ounces

baby portobello mushrooms, sliced

1

bunch broccoli rabe, washed, ends trimmed , stalks peeled and larger leaves torn in half

extra virgin olive oil for drizzling
Directions
Put a large stock pot over a medium-high flame. Add the water, bouillon cubes, split peas, onion, carrots, celery and mushrooms to the pot. Bring the pot to a boil and lower the flame to a simmer. Cook until the split peas are tender and begin to break down, about 20-30 minutes.

Add the broccoli rabe and return the pot to a low boil. Cook just until the broccoli rabe is tender, about 7-10 minutes.

Portion into bowls and drizzle with good quality extra virgin olive oil. Serve with crusty Italian bread.