Steak Pizzaiola Recipe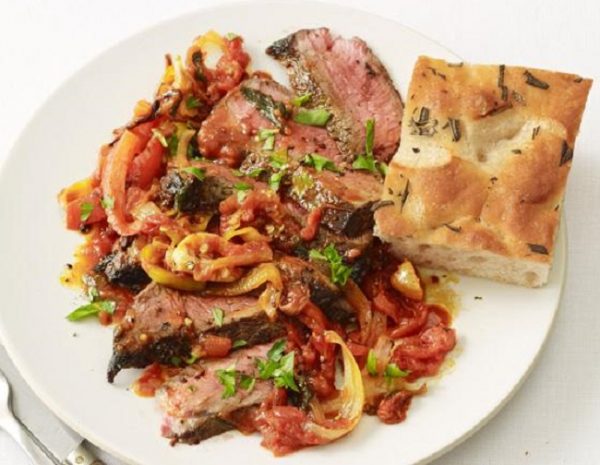 Steak Pizzaiola Recipe
This is a very popular dish in many Italian-American restaurants.   Now you can make it at home and save money.  Although it is red meat, you will be using a very lean cut of meat with very little fat.  Feel free to add some onions and mushrooms to this dish to put it over the top.  Once you make this dish, it will quickly become one of your families favorites.
Ingredients
1 1/4 pounds boneless sirloin steak (about 1 inch thick), excess fat trimmed
Kosher salt
2 tablespoons extra-virgin olive oil
4 cloves garlic, smashed
1 large onion, sliced 1/4 inch thick
2 bell peppers (1 red, 1 yellow), sliced 1/2 inch thick
4 jarred pepperoncini, drained and thinly sliced
1 15 -ounce can crushed tomatoes
1/2 teaspoon dried oregano
Pinch of red pepper flakes
2 tablespoons chopped fresh parsley
Focaccia, for serving (optional)
Directions
Sprinkle the steak all over with 1/4 teaspoon salt. Heat the olive oil in a large skillet over medium-high heat. Add the steak and sear until browned, about 2 minutes per side. Transfer to a plate.
Add the garlic to the skillet. Once it sizzles, add the onion and bell peppers and cook, stirring occasionally, until they soften slightly, about 4 minutes. Add the pepperoncini, tomatoes, oregano, red pepper flakes and 3/4 cup water and stir to combine. Bring to a rapid simmer, then nestle the steak in the sauce and simmer, turning once, until medium rare, about 7 minutes. Transfer the steak to a cutting board and let rest about 5 minutes. Continue simmering the sauce until thickened, about 3 more minutes.
Thinly slice the steak against the grain and divide among plates. Top with the sauce and parsley. Serve with focaccia.
Photograph by Antonis Achilleos
Recipe courtesy Food Network Magazine