Strawberry-Rhubarb Crisp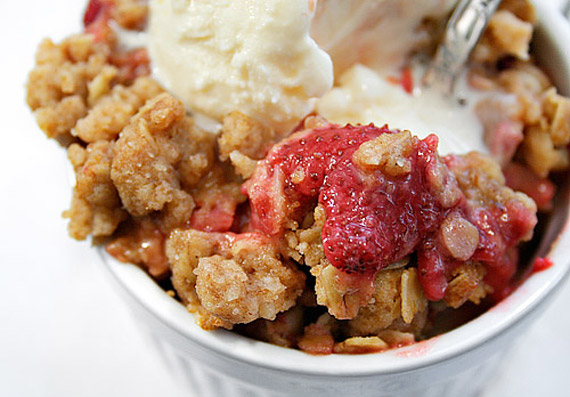 Ingredients
    Makes 8 servings
        Filling:
        6 medium stalks rhubarb, cut into 1/2-inch pieces
        2 cups (8 ounces/250 grams) strawberries, hulled and halved lengthwise
        1/2 cup (4 ounces/125 grams) sugar
        Topping:
        1 cup (5 ounces/155 grams) all-purpose flour
        1/2 cup (1.5 ounces/45 grams) old-fashioned rolled oats
        1/3 cup (3 ounces/90 grams) sugar
        1/3 cup (2.5 ounces/75 grams) firmly packed golden brown sugar
        1/2 teaspoon ground cinnamon
        1/4 teaspoon salt
        1/2 cup (1 stick) unsalted butter, melted
Directions
        Position a rack in the middle of the oven, and preheat to 350 degrees F. Have ready a 2.5 quart ceramic or glass pie dish or baking dish.
        For the Filling: In a large bowl, stir together the rhubarb, strawberries and sugar until well mixed. Pour into the baking dish, and set aside.
        For the Topping: In a large bowl, stir together the flour, rolled oats, sugars, cinnamon and salt until well blended. Stir in the melted butter until evenly moistened crumbs form. Spoon the crumb mixture over the filling.
        Bake the crisp until the rhubarb is tender when tested with a toothpick, the juices are bubbling, and the topping is golden brown, 35-40 minutes. Transfer to a wire rack, and let cool for 10 minutes. Serve warm.
    STORAGE: The crisp can be cooled, covered with plastic wrap and stored at room temperature for up to 2 days. Rewarm in a 250-degree F oven for 15 minutes before serving. Preferably with a substantial scoop of vanilla ice cream.