Grilled Vegetables with Balsamic Vinaigrette
Grilled Vegetables with Balsamic Vinaigrette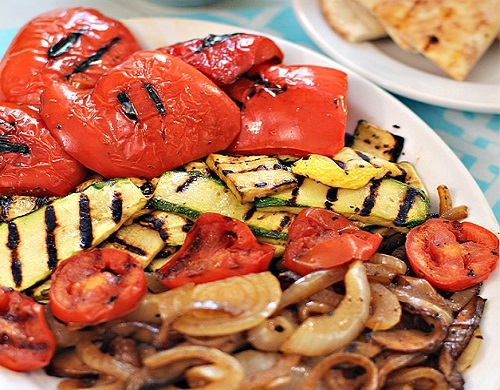 Ingredients
    Serves 4 to 6
 2 bell peppers (any color), seeded and quartered
 2 medium zucchini, cut lengthwise into 1/2-inch-thick slices
 2 medium yellow squash, cut lengthwise into 1/2-inch-thick slices
 2 big handfuls of mushrooms (or 1-2 portobello mushrooms, sliced)
 1 Vidalia or red onion, cut into 1/2-inch-thick slices
 2 Roma tomatoes, sliced crosswise for grill pan or lengthwise for regular grill
Ingredients
        Balsamic Vinaigrette:
 3/4 cup extra-virgin olive oil
 1/4 cup balsamic vinegar
 1 tablespoon garlic, minced
 1 tablespoon chopped fresh herbs (basil, oregano and/or rosemary) or 1/2 tablespoon dried herbs
 Salt and freshly ground black pepper
Directions
 To Make the Balsamic Vinaigrette: In a small bowl, whisk together the oil, vinegar, garlic, herbs, salt and pepper. Set aside.
  Place your vegetables into a large resealable plastic bag. Pour half of the vinaigrette inside the bag, and seal. Turn the bag so that the vinaigrette coats the vegetables. Let it sit for at least 1 hour.
  Place a grill pan over medium heat, or bring your grill to medium-high heat.
  Pour the vegetables out onto a large baking sheet and roughly group like vegetables together. Sprinkle  all of the vegetables with salt and pepper.
  Working in batches, grill the vegetables: about 8 minutes for the bell peppers, 5 to 6 minutes for the zucchini and squash, 4 minutes for the mushrooms and onion, and 1 to 2 minutes for the tomatoes. Flip each vegetable halfway through its cooking time.
  Transfer the vegetables to a large platter. Serve with the remaining vinaigrette.