Beer-Steamed Mussels with Fennel & Shallots
Beer-Steamed Mussels with Fennel & Shallots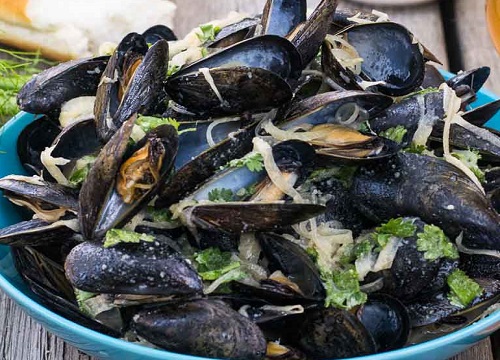 Ingredients
    2 lb. mussels
    1 T. olive oil
    1 small fennel bulb thinly sliced
    2 shallots finely diced
    2 cloves garlic minced
    1 t. salt
    2 cups wit beer
    1/2 orange
    2 T. butter
    1/4 cup cilantro chopped
     crusty bread for dipping
Instructions
    Place the mussels in a colander and run cool water over them. Scrub and debeard mussels if needed – Serious Eats has a good guide.
    Heat olive oil in a large skillet over medium-high heat. Add fennel & shallots, saute for 2 minutes, then add garlic & salt and saute for another minute.
    Add mussels to the pan and shake to coat with oil. Pour beer over mussels, stir to coat, then cover tightly.
    Cook mussels for 3-5 minutes, shaking the pan occasionally. Keep skillet covered but check every 30 seconds or so to see if mussels have opened. As soon as a mussel opens, remove it with a slotted spoon to a serving plate. Discard any mussels that haven't opened after 10 minutes.
    Squeeze juice from orange into broth, then add butter & continue simmering until slightly thickened, about 5 minutes. Stir in cilantro and pour broth over mussels.
    Serve hot, with crusty bread for the broth.