Stuffed Cannelloni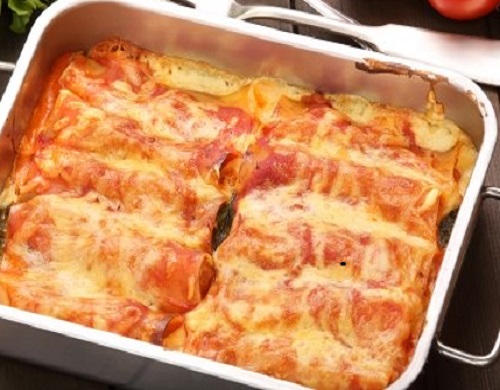 Crespelle
INGREDIENTS
2 eggs

1 cup of milk

3/4 cup of flour

1/8 tsp of salt

1 tsp of dried basil

PREPARATION

in a large bowl whisk together all the ingredients.

Refrigerate for 1 hour.

Grease a small 6-7 inch frying pan with butter.

Heat the pan and add around 3 Tbls of the crepe mixture.

Swirl the pan around to coat the bottom.

When the edges of the crepe pulls away from pan flip with a spatula.

Then slip onto a plate and repeat.

Add bits of butter as needed

NOTE: This recipe should make around 12 crepes

Filling

INGREDIENTS

1 pound of ricotta cheese

1 pound of spinach, cooked and chopped

1 cup of grated asiago cheese

1/4 cup of chopped parsley

1/2 tsp of salt

1/2 tsp of fresh ground black pepper

2 eggs

1 package of mozzarella cheese

PREPARATION

Thoroughly mix together all the ingredients.

Pre-heat the oven to 350 degrees.

Coat the bottom of a greased baking dish with some red gravy.

Place the ricotta mixture in the crepe and roll up.

Repeat until you use all the crepes.

Place the crepes in the baking dish and top with more gravy and mozzarella cheese.

Bake for 30 to 40 minute.

Serves 4 people and don't forget the garlic bread.