"Stuffed Italian Artichokes" – Written Recipe
"Stuffed Italian Artichokes"
Written Recipe
*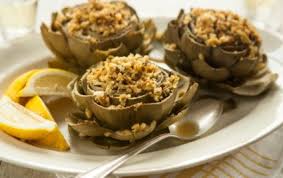 *
Stuffed artichoke is a food prepared in various regions. A common Italian stuffing uses a mixture of bread crumbs, garlic, oregano, parsley, grated cheese, and prosciutto or sausage. The mixture is pushed into the spaces at the base of each leaf and into the center before the
artichoke is boiled or steamed.
*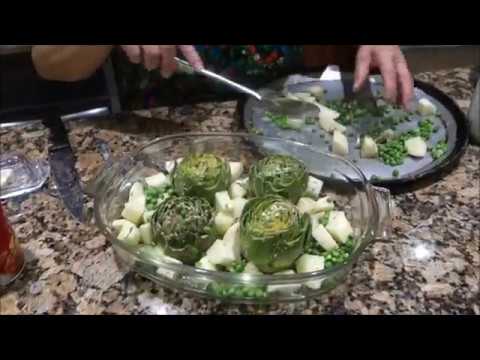 *
Throughout North Africa, the Middle East, Turkey, and Armenia, a favorite filling for stuffed artichoke hearts includes ground lamb. Spices reflect the local cuisine of each country. In Lebanon, for example, the typical filling would include lamb, onion, tomato, pinenuts, raisins, parsley, dill, mint, black pepper, and allspice. A popular Turkish vegetarian variety uses only onion, carrot, green peas, and salt.
*
*

Ingredients:
6 medium artichokes

1 1/4 cups of bread crumbs (plain)

1/2 cup of grated Pecorino-Romano cheese 

1/2 cup of fresh chopped parsley

2 teaspoons of minced garlic (fresh or jar)

3/4 Tsp of salt & freshly ground pepper to taste

1/3 cup of olive oil or vegetable oil

Directions:
Cut off the stem and 1/4 off the top of an artichoke.

Then remove some of the outer leaves at the bottom.

Use scissors to clip off top of side leaves. (That removes the sticky point on each leaf)

Then wash in a deep bowl.

Fill a large pot with water and boil. Place the artichokes in the pot carefully and lower heat to medium for about 7 minutes.

Fork test bottom of an artichoke for tenderness. If a fork goes in and out easily, they are done.

Next drain and run cold water on artichokes let them sit and cool off.

While they are cooling down, mix the bread crumbs, parsley, minced garlic, grated cheese, and a sprinkle of salt with pepper. Mix in a little oil with hands. When it feels like a sandy consistency then you are ready to fill.

Gently spread the leaves a little apart and sprinkle some of the bread crumb mixture between each of the leaves.

Place the now stuffed artichokes in a glass Pyrex baking dish. (7x11x1.5)

Drizzle a small amount of oil on top of each artichoke.

Put a small amount of water in the bottom of a pan about 1/4 inch deep.

Bake for about 25-30 minutes at 350° F.

The top should be a little browned and crispy, when they are ready to eat.    

 
*
and
Visit us on the web at www.dev.everybodylovesitalian.com