Sweet Italian Sausage Casserole
Sweet Italian Sausage Casserole with Eggplant and Zucchini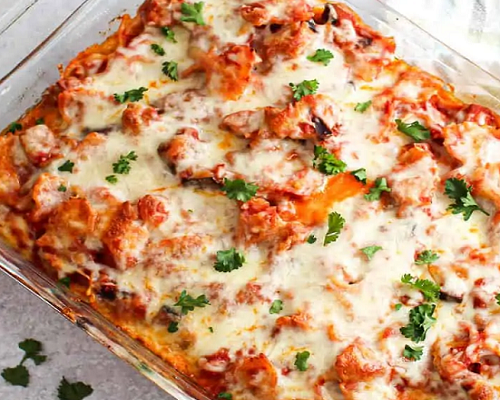 Ingredients:
5 tablespoons extra virgin olive oil
8 ounces sweet Italian sausage, casings removed
1 cup diced (1/2-inch) eggplant
1 cup diced (1/2-inch) zucchini
1 cup diced (1/2-inch) red or green bell pepper
1/4 cup chopped onion
2 cloves of garlic, minced
1 can (28 ounces) Italian plum tomatoes, drained and chopped
2 tablespoons chopped fresh parsley
2 tablespoons chopped fresh basil leaves
Cayenne or black pepper, to taste
2 ounces grated mozzarella cheese
Directions:
Put olive oil in a nonstick pan over medium-low heat.
Add the sausage meat and cook for 10 minutes, breaking up the meat with a spoon.
Remove to a bowl with a slotted spoon; reserve.
To the same pot, add the eggplant, zucchini, bell pepper, onion and garlic.
Stirring occasionally, cook until softened, about 10 to 15 minutes.
Stir in the reserved sausage, the tomatoes, parsley, basil and cayenne.
Reduce the heat and simmer for 15 minutes.
Spoon the mixture into an 8 by 9-inch, oven-to-table baking dish to fit and sprinkle with the mozzarella cheese.
Bake in a 350°F preheated oven until the cheese melts, about 15 to 20 minutes. Makes 4 servings.