Sea Food Risotto (Risotto ai Frutti di Mare)
Sea Food Risotto
(Risotto ai Frutti di Mare)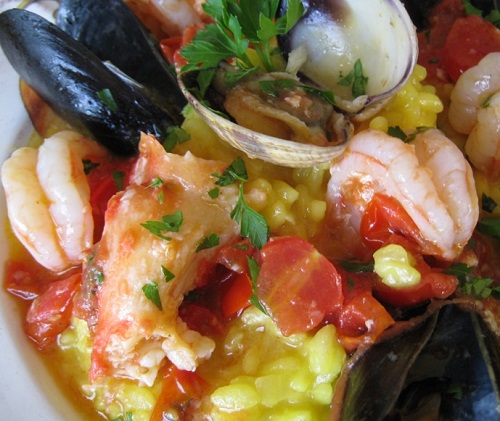 Ingredients:
1/2 lb (225 grams) mussels, see mussels
1/2 lb (225 grams) clams, well cleaned
1/2 lb (225 grams) squid, clean and cut in small pieces
1/2 lb (225 grams) prawns, shelled and cut into pieces
Red pepper or strong paprika
1 garlic clove
2 tbsp chopped parsley
8 tbsp extra virgin olive oil
1/2 glass dry white wine
2 cups (500 grams) rice (preferably Carnaroli)
2 cups (1/2 liter) boiling stock
Salt and pepper
1 tbsp chopped parsley, to decorate
Directions:
Wash and clean the mussels and the clams and put them in a large saucepan with a little olive oil at high temperature so that they open.
When they are open, remove the mollusks and set them aside in their juice.
Cut the garlic and the red pepper finely and saute in the pan with 8 tbsp of extra virgin olive oil and the parsley and before the garlic turns brown add the wine along with the mussel and clam juice.
When it starts boiling again add the rice and cook by slowly adding the stock.
After 10 minutes, add the squid and the prawns.
Stir in the mussels and clams a few minutes before the rice is ready, season with salt and pepper and serve with a sprinkle of chopped parsley. Serves 6.