The Ricotta Cookie – Frank's Thought & Written Recipe
The Ricotta Cookie
Frank's Thought on Growin' Up Italian
&
Written Recipe
The Ricotta Cookie.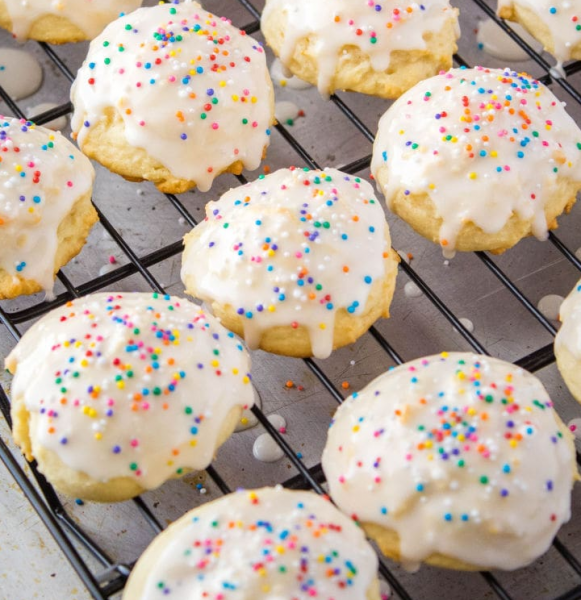 When I was a kid, for that matter as long as I can recall I have had a love affair with the Ricotta cookie. My Grandmother Madalena was from Calabria and she made these cookies all the time. At least that's how I remember it. And … you could never eat just one. 
Even today it just takes a moment and I can taste them by memory. A cup of coffee and some Ricotta Cookies. That's what I call heaven.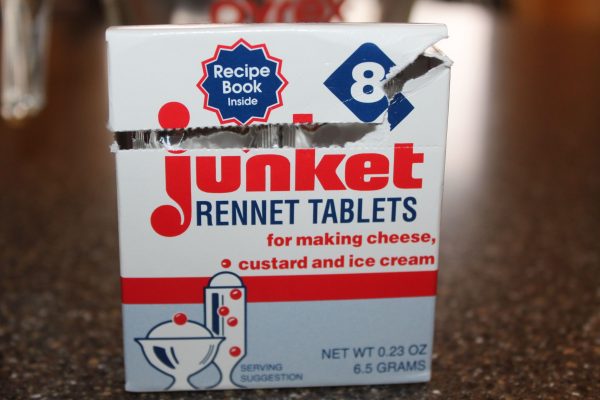 Sometimes she would send me to the "American Store" for rennet tablets and she would make her own. My mother too. I still can see the cheese cloth hung from the ceiling in the kitchen. Something you just don't see anymore, at least in most American homes of today.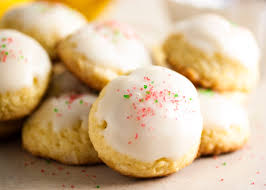 Ingredients for Ricotta Cookies
This recipe calls for basic ingredients most all of which you already have on hand.
1 cup (2 sticks) unsalted butter, softened

1 ¾ cups granulated sugar

2 large eggs

16 ounces (2 cups) whole milk ricotta

2 tablespoons pure vanilla extract

4 cups all-purpose flour

1 teaspoon baking powder

1 teaspoon baking soda

For the glaze:

3-4 tablespoons milk

1 ½ cups powdered sugar

1 teaspoon pure vanilla extract

Colorful sprinkles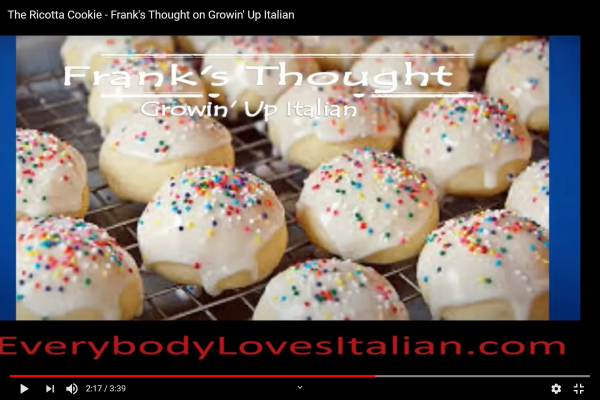 Directions:
Preheat your oven to 350°F.

Line 2 large, rimmed baking sheets with parchment paper or equal.

With a paddle attachment, gently mix the butter and sugar together until creamy.

While mixing add the eggs, one at a time, until combined.

Add the ricotta and vanilla and continue mixing until combined.

In a separate bowl, whisk the flour, baking powder and baking soda together.

Add the flour mixture to the mixer bowl and mix gently on low until no pockets of flour remain.

Proportionately arrange the cookie dough onto the baking sheets. Cookies should be in portions about 2 tablespoons in size. Make sure you leave about an inch or two of space between cookies.

Bake the cookies for about 8 minutes or until the bottom edges look golden. Let them cool for a few minutes on the baking sheet before removing to a rack to cool.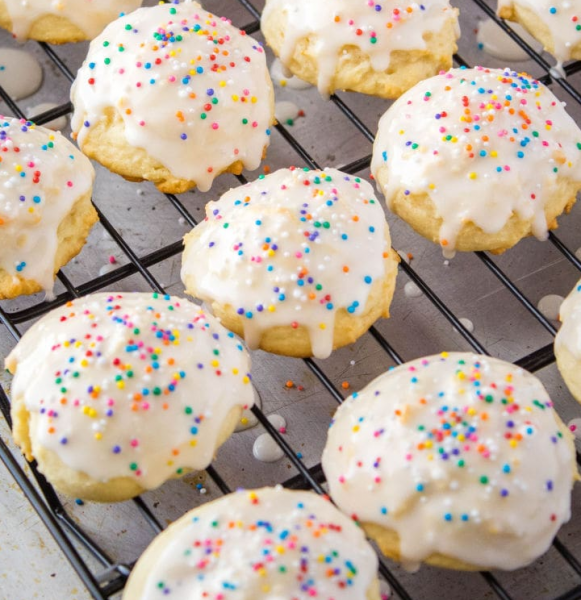 To make the simple glaze for Ricotta Cookies
In a separate bowl, whisk together approx. 3 tablespoons milk, the confectioners' sugar, and the vanilla until smooth. Add more milk as needed. Glaze should be thin enough to drizzle but should not be too liquid.

Once the cookies have cooled, either dip the tops of cookies into the glaze or drizzle them with the glaze. Just the tops of the cookies should be covered.

Decorate the cookies with sprinkles while glaze is still wet.
*
Hope you enjoy making these wonderful cookies. Message us and let us know how they turned out. 
All the best, Joanne and Frank
Everybody Loves Italian

and
visit us on the web at
dev.everybodylovesitalian.com