The Wooden Spoon – Frank's Thought "Growin' Up Italian"
The Wooden Spoon 
Frank's Thought "Growin' Up Italian"
*
The Wooden Spoon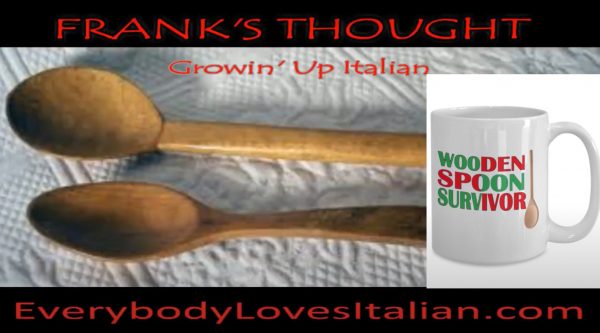 BELOW: Watch this episode of Frank's Thought about
"Growin' Up Italian" featuring
The Wooden Spoon 
Is there anything more iconic in Italian families than the wooden spoon? We have some that are probably a hundred years old. They never seem to break and are passed on from mother to daughter and so on.
You can purchase the Wooden Spoon Survivor Coffee Cup
by clicking on the link
The wooden spoon has been used by parents, predominantly Italian mothers, as an implement for lighthearted, corporal correction. Lately it has become a symbol of nostalgia as its actual use has become culturally unacceptable.
I recall my mom threatening us with the wooden spoon and once in a while tapping us lightly behind the knee to get her point across. But it was always non aggressive and most of us today love to be thought of as Wooden Spoon survivors. LOL
Actually the word Spoon derives from an ancient word meaning a chip of wood or horn carved from a larger piece.  Wooden spoons were easy to carve and thus inexpensive, making them common throughout history.
Today, wooden spoons in western cultures are generally medium to large spoons used for mixing ingredients for cooking or baking. They may be flat or have a small dip in the middle.
They are still used for stirring many different kinds of food and beverages, especially soups and casseroles during preparation, although they tend to absorb strong smells such as onion and garlic.
Wooden spoons are generally preferred for cooking because of their versatility. Some Italian cooks prefer to use wooden spoons when preparing risotto because they do not transfer heat as much as metal spoons. Unlike metal spoons, they can also be safely used without scratching non-stick pans. This is useful when making dishes such as scrambled eggs. 
From Wiki
Hope you enjoy the episode below 
Frank's Thought on Growin' Up Italian
featuring
The Wooden Spoon

and
visit us on the web at
dev.everybodylovesitalian.com