Tomatoes Au Gratin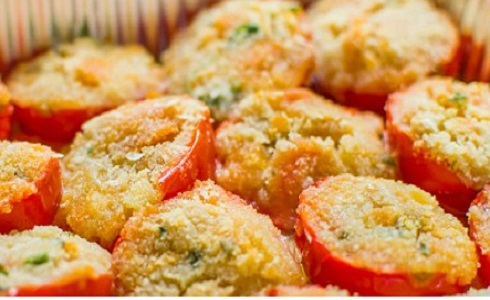 Ingredients:
4 tomatoes, halved
3 canned anchovy fillets in oil, drained and chopped
1 onion, chopped
3 and 1/2 oz (100 grams) breadcrumbs
3 tablespoons extra virgin olive oil, plus extra for brushing and drizzling
1 fresh flatleaf parsley sprig, chopped
1 tablespoon capers, drained, rinsed and chopped
Salt
Directions:
Scoop out the tomato seeds and some of the flesh.
Sprinkle with salt and turn upside down on kitchen paper to drain for about an hour.
Preheat the oven to 160°C (325°F) Gas Mark 3.
Brush an ovenproof dish with olive oil.
Heat 1 tablespoon of the olive oil in a small saucepan.
Add 2 oz (50 grams) of the breadcrumbs and cook, stirring frequently, until golden brown.
Remove from the heat and set aside.
Heat the remaining olive oil in another small pan.
Add the onion and cook over a low heat, stirring occasionally, for 5-6 minutes.
Add the anchovies and parsley.
Mix well and remove from the heat.
Stir in the capers and fried breadcrumbs.
Fill the tomato halves with the mixture and place in the prepared dish.
Sprinkle with the remaining breadcrumbs.
Drizzle with olive oil and bake for about 40 minutes until golden brown. Serves 4.