Zucchini Carpaccio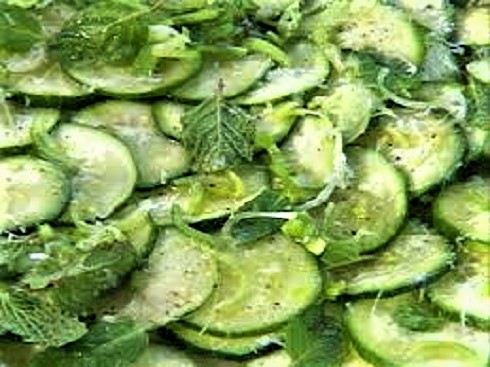 Ingredients:
4 small zucchini (1 lb total)
1/3 cup loosely packed fresh mint leaves
2 tablespoons extra virgin olive oil
2 teaspoons fresh lemon juice
1/4 teaspoon fine sea salt
1/4 cup pine nuts (1 oz)
1 (6-oz) piece Grana Padano or Parmigiano-Reggiano
Special equipment: Adjustable-blade slicer
Directions:
Cut zucchini diagonally into paper-thin slices with slicer.
Arrange slices, overlapping slightly, in 1 layer on 4 plates.
Make stacks of mint leaves and cut crosswise into very thin slivers, then sprinkle over zucchini.
Whisk together olive oil and lemon juice in a small bowl, then drizzle over zucchini.
Sprinkle with sea salt, pepper to taste, and pine nuts.
Let stand 10 minutes to soften zucchini and allow flavors to develop.
Just before serving, use a vegetable peeler to shave cheese to taste over zucchini. Makes 4 first-course servings.