Traditional Easter Cake "Torta Pasqualina" – GialloZafferano
Traditional Easter Cake
"Torta Pasqualina" 
GialloZafferano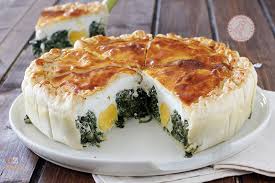 *
The pasqualina cake is usually a savory pie , typical of the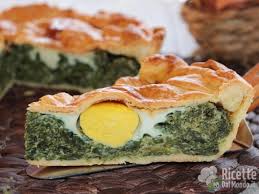 *
It is prepared by spreading very thin sheets of pasta prepared with water, flour and olive oil (without yeast ). The cut sheet that will be used for the bottom must be larger than the pan, and, in this phase of preparation, it must hang out of the container. If you want you can spread two sheets, one over the other.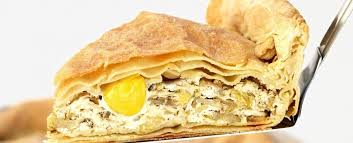 Then pour the stuffing, prepared with chard (so-called herbs), sautéed with a little extra virgin olive oil with new spring onions, two beaten eggs mixed with the filling, grated cheese , salt and marjoramfresh chopped, then cover it all with pieces of quailta ( prescinsêua in the Ligurian language ).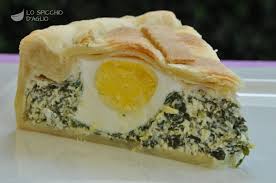 On the filling spread out on the dough some hollows are made with the help of a spoon in which some whole eggs are dropped; they will become firm with the baking of the cake. On each egg you can put a little salt and pepper .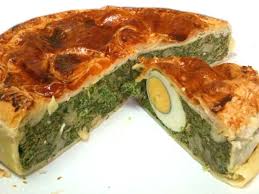 Above all these are the cover sheets, at least two, very thin; between one and the other, anointed to prevent them from sticking together, one blows with the help of a straw, so as to create an inner tube inside. Then they roll up on the edge of the pan together with the lower one, creating a decorative festoon . It is cooked in the oven. The cake at the end of cooking will have a pleasant aspect of fullness. To control the baking of the pastry the housewife left a piece of dough out of the scalloping , called oêgin (auricle).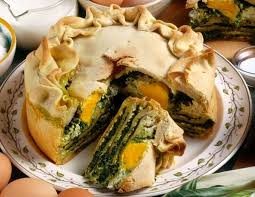 The traditional Easter cake is typical of the Easter period , that is, of the spring and its products: eggs, herbs, new onions, marjoram, once present in every Ligurian garden. It represents the highlight of the Easter lunch and in the past it was the apotheosis of the skill of housewives , who legendarily are said to have succeeded in superimposing up to thirty-three sheets in homage to the years of Christ .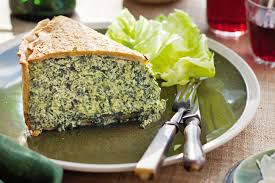 The pasqualina cake should be combined with a young, perfumed, dry but soft and savory white wine, such as Vermentino , served at 10 ° C.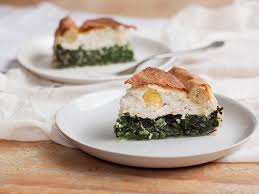 *
*
Then Join Dominic and Frank on Facebook at Everybody Loves Italian where we forever celebrate Life, Love and the Italian Experience. 
*
Visit us on the web at www.dev.everybodylovesitalian.com