Turkey Bolognese Sauce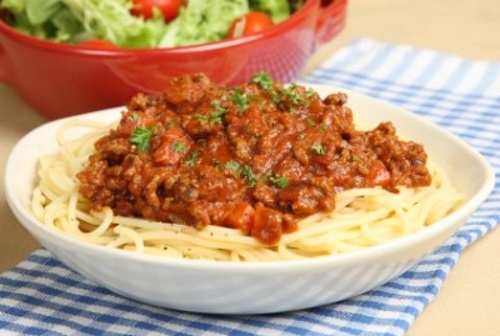 INGREDIENTS
2 Tbls of light extra virgin olive oil

1 yellow onion, chopped

3 cloves of garlic, chopped

2 carrot, chopped

2 stalks of celery, chopped

1 pound of ground turkey

1 8oz can of tomato paste

1/2 cup of dry red wine

1 15oz can of diced tomatoes

1 28ozcan of tomato sauce

1 tsp of dried oregano

1 tsp of dried basil

1 tsp of dried marjoram

1/4cupof fresh Italian flat leaf parsley

1 tsp of salt

1 tsp of fresh ground black pepper

PREPARATION

Heat the olive oil in a large pot

Add the onions, garlic, carrots and celery and cook for 2 to 3 minutes.

Add the ground turkey and cook for 3 minutes while breaking up the turkey into smaller pieces.

Stir in the tomato paste and wine and cook for 2 minutes more.

Add the diced tomatoes, tomato sauce, oregano, basil, marjoram, parsley, salt and pepper.

Cover and simmer for 1 to 2 hours.

Serve with your favorite  pasta.