Spinach Soup with Tortellini
Spinach Soup with Tortellini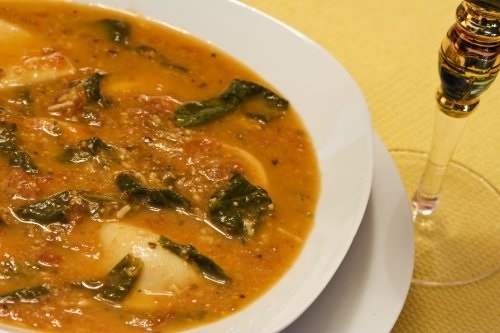 INGREDIENTS
1 pound of fresh baby spinach

1 medium yellow onion, chopped

2 cloves of garlic, chopped

2 Tbls of extra virgin olive oil

1 Tbls of butter

1 quart of chicken broth or stock

1/2 tsp of fresh grated nutmeg

1/2 tsp of salt

1/2 tsp of fresh ground black pepper

4oz. of fontina cheese, diced

1 pound of cheese tortellini

PREPARATION

Thoroughly was the spinach and remove tough stems.

In a large pot sauté the onions and garlic until tender.

Add the broth and bring to a boil.

Reduce heat to a simmer and carefully add the spinach

Season with nutmeg, salt and pepper.

Cook until the spinach is wilted.

Add the tortellini and cook for another five minutes.

Place the soup in bowls and top with fontina cheese.

Serves 4 to 6 people.