Tuscan Duck a l'Orange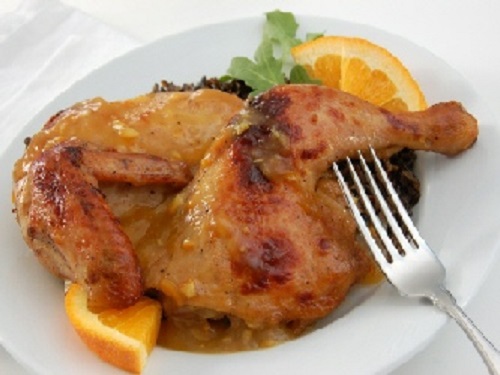 Ingredients
4 oz (115 g) prosciutto, finely chopped
rind of 1 orange, finely chopped
2 + 1 oz (60 + 30 gr) butter
pinch of nutmeg
salt and black pepper
1 duck, cleaned and flamed
1/2 cup (120 cc) dry white wine
2 oranges, juiced, the rind very finely diced
1 lemon, juiced, the rind very finely diced
2 tablespoons Grand Marnier, or other orange brandy
1 orange, sliced (for decoration)
Directions
* In a bowl combine the prosciutto, rind of the 1 orange, 2 oz (60 gm) butter, nutmeg, salt, and pepper.
* Spread the mixture  inside the duck.
* Close the opening of the duck with kitchen rope. Season the duck rubbing the outside with salt and pepper.
* Put the 1 oz (30 gr) butter in a large skillet over low heat. As soon as the butter starts foaming, add the duck and brown evenly on all sides.
* Turn heat to medium high, add the wine, and let the wine evaporate.
* Add the orange juice, rind of the 2 oranges, lemon juice, lemon rind, salt, and pepper.
* Cover and cook on low heat for about 90 minutes, or until the duck is tender. Turn the duck once to cook it evenly on all sides.
* Add a small quantity of broth if necessary to prevent the duck from sticking to the pan.
* Remove the duck from the skillet, transfer to a serving plate, and keep it warm.
* Lower the heat, and add the orange liqueur to the skillet. Stir with a wooden spoon, scraping the cooking residues from the walls and bottom of the skillet. Filter the sauce through a fine strainer.
* Decorate the duck with the orange slices, cover with the sauce, and serve warm.