Uccellini Scappati – Stuffed Pork Rolls
Uccellini Scappati – Stuffed Pork Rolls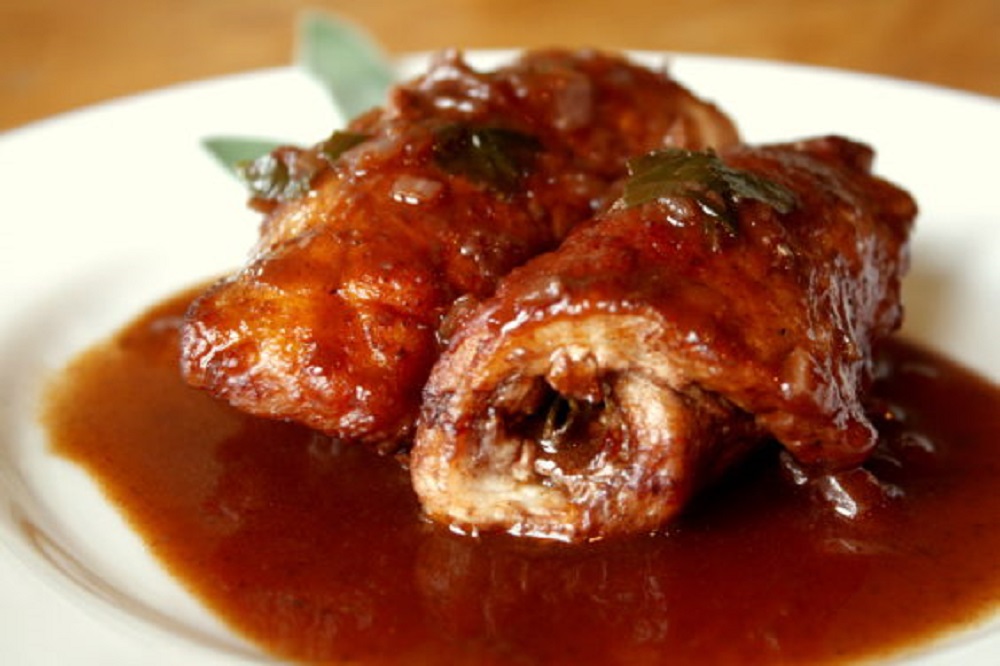 Little slices of lean pork stuffed with prosciutto, sage & sun-dried tomatoes.
Yield:

Serves 6
Prep Time:

20 minutes
Cook Time:

25 minutes
Ingredients
1 Pound Pork Loin Cutlets, Cut Thin (About 12)

1/4 Cup Flour Seasoned With Salt & Pepper

12 Thin Slices Prosciutto

12 Fresh Sage Leaves

12 Slices Sun-Dried Tomatoes In Oil, Sliced Thinly

1 Tablespoon Butter

1 Tablespoon Olive Oil

1/4 Cup Finely Diced Onion

2 Cloves Garlic, Peeled & Minced

3 Tablespoons Tomato Paste

1/2 Cup Beef or Chicken Stock

1 Cup Dry Red Wine

Salt & Pepper To Taste

1/3 Cup Chopped Fresh Parsley
Instructions
Use a mallet to pound out the cutlets very thinly, then lie one slice of prosciutto, one fresh sage leaf, and one thinly sliced sun-dried tomato over each slice.

Roll tightly encasing the filling inside, and tie firmly with kitchen twine.

Roll the pork rolls in the seasoned flour to coat lightly.

Heat the butter and oil in a large skillet, and then brown the pork rolls well on each side.

Remove the rolls to a platter, and add the onion and garlic to the pan.

Cook until the onion is translucent, about 2 or 3 minutes, and then add the tomato paste and stir into the pan.

Add the wine and stock, and bring to a boil, reduce to a simmer and cook for 5 minutes.

Season the sauce with salt and pepper, then return the pork rolls to the pan.

Cover, reduce heat to medium, and cook until the rolls are cooked through, about 8 to 10 minutes.

Place the rolls onto a serving platter, and stir the parsley into the sauce.

Spoon the sauce from the skillet over the pork rolls and serve immediately.