Sardinian Fregola with Clams (Fregola sarda con le arselle)
Sardinian Fregola with Clams (Fregola sarda con le arselle)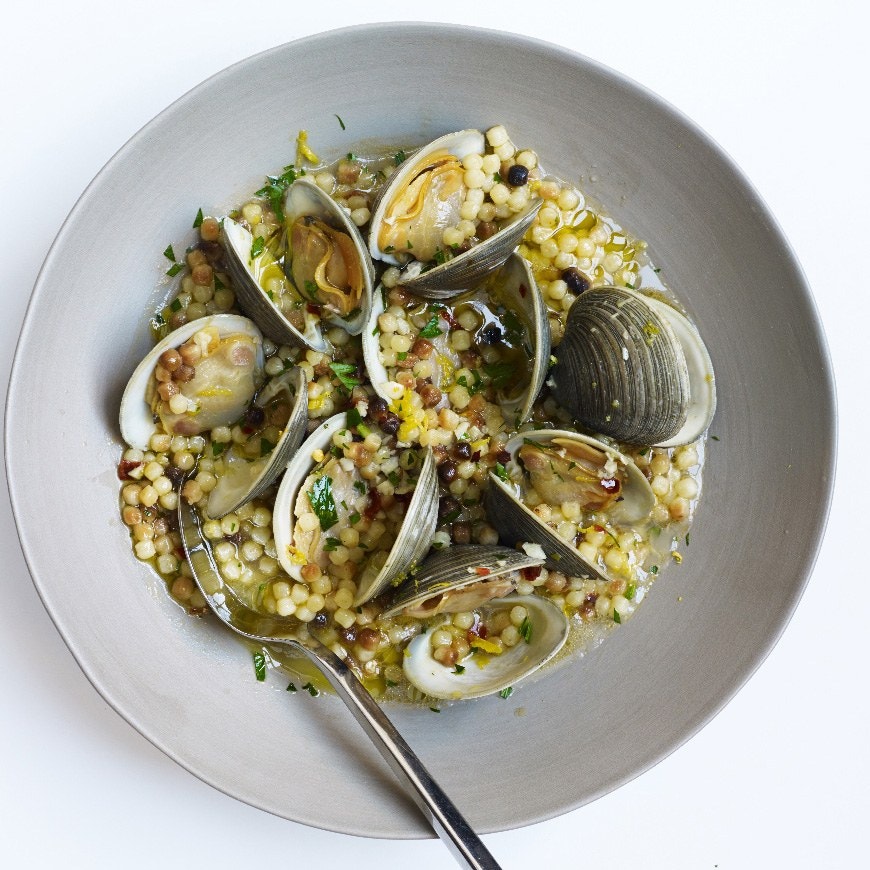 Serves 4.
4 dozen littleneck clams, scrubbed and rinsed
1/3 cup extra-virgin olive oil
3 garlic cloves, minced
About 2 cups diced tomato (either canned or fresh plum tomatoes)
Pinch of hot red pepper flakes
Pepper, to taste
1 cup whte wine
2 tablespoons coarsely chopped flat-leaf parsley
4 cups of good quality chicken broth
2 cups fregola
Salt
≈
Wash and scrub clams.  Heat the olive oil in a large heavy pot. (I used a large Le Creuset.)  Add the minced garlic and cook over moderately high heat for approximately 30 seconds.  Add the chopped tomatoes, a pinch of hot pepper flakes and pepper, to taste.  Cook until garlic and tomatoes soften (abut 3 or 4 minutes).  Add the wine and parsley and simmer for approximately 5 minutes.
Place the clams, in a single layer, on top of the mixture and cover tightly.  (It may take a few batches to accommodate all the clams.)  Cook over moderately high heat until the clams open, probably about 5 mins.  Discard any clams that do not open.  As they open, scoop out the clams into a large bowl.  Repeat with second batch, if required.
Once all the clams are cooked, add 4 cups of good quality chicken broth to the yummy clam broth and bring to a boil.  Add 2 cups of the fregola pasta.  Bring to a boil, if not already doing so. Cover and cook over moderately low heat, stirring occasionally, until tender to the bite (about 15 minutes).
Adjust the pepper and hot pepper seasonings. Add salt to taste (I have not had to add any at all to this dish). Put the clams back into the wonderful broth to reheat for a second and then spoon into shallow bowls. Sprinkle with additional chopped parsley and serve immediately with freshly warmed toasted bread